The Mobile World Congress is the most important European event of the year for the industry of smartphones and other less successful mobile devices. Almost all manufacturers -except Apple, which does not participate in this type of events- will be in Barcelona to present their novelties for the first half of 2017. The event will open its doors to the public from February 27 to March 2, but the first press conferences and the previews of some launches will take place from Saturday 25 February. Next, we take all the rumors and the most anticipated announcements of the mobile fair par excellence.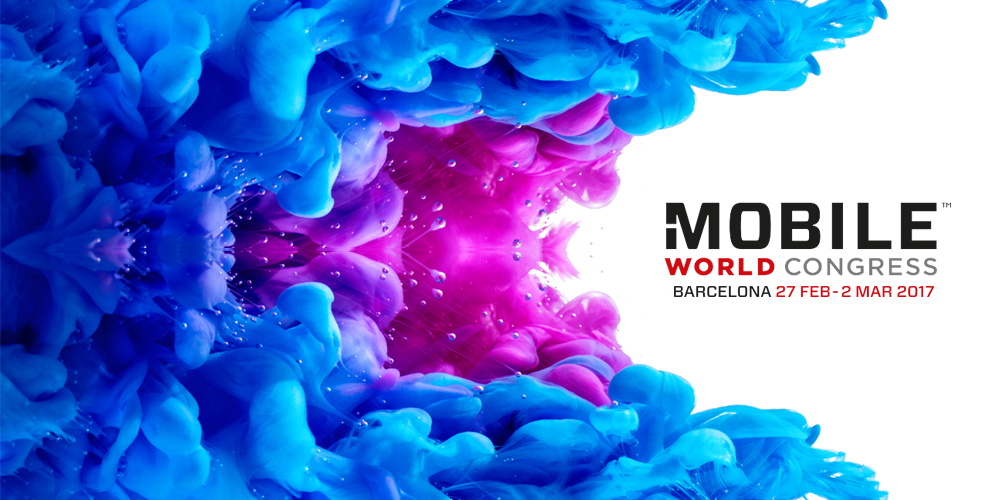 Mobile World Congress 2017: the most awaited
TCL (BlackBerry)
The TLC press conference is scheduled for February 25 at 7:00 pm with the expected announcement of the BlackBerry Mercury smartphone, whose technical specifications confirm a curved display of approximately 4.5 inches Full HD (1,080 x 1,620 pixels resolution and a pixel density of 420 ppi), a Snapdragon 821 processor, a fingerprint reader, a physical QWERTY keyboard, a 13-megapixel rear camera, an 8-megapixel front camera, and Android 7.0 Nougat on board.
LG
At its press conference scheduled for February 26 at noon, LG will introduce its high-end smartphone for this year's LG G6. To make expectations real, the manufacturer has already officially unveiled some of the smartphone's features, starting with the new UX 6.0 user interface, the 5.7-inch Full Vision QHD display (2,880 x 1,440 pixels), 18:9 aspect ratio, the dual camera wide-angle system on the back with two 13-megapixel sensors, and water resistant.
Huawei
Huawei will hold its press conference at the MWC 2017 in Barcelona on February 26 at 14:00., where two new smartphones will be presented -perhaps the P10, Lite and Plus and other variants- and certainly the smartwatch Huawei Watch 2, which arrives almost two years after the release of the original model, officially released on March 1, 2015, but this time based on the latest version of the platform operating system, Android Wear 2.0.
HMD Global (Nokia)
HMD Global plans to introduce the new line of Nokia brand smartphones in the Mobile World Congress 2017. Nokia CEO Rajeev Suri has already confirmed through Twitter his participation in the event in Barcelona to speak during the opening speech. At least two or three smartphones are expected to be released, allied with the Android operating system.
Nokia 6 was launched in China in January, and it is expected that this same smartphone will appear in Barcelona as an advertisement for the European market, perhaps under a different name. Another predictable cell phone is the Nokia 5, with a touch screen, resolution of 5.2 inches HD (720p), 2 GB of RAM, a main camera of 12 megapixels and processor Qualcomm Snapdragon 430. Finally, we could know a low-end smartphone called Nokia 3 and also a cheap cell phone of € 59, allegedly the Nokia 3310. Everything during the 26 of February at 16:30 in the afternoon.
Lenovo (Motorola)
The Moto G5 and Moto G5 Plus are the smartphones planned by Lenovo for this first half of the year. In theory, the Moto G5 Plus will have a 5.2-inch Full HD display, a 12 megapixel main camera with dual autofocus, a 5-megapixel front sensor, Snapdragon 625 chipset, 2 GB of RAM, 64 GB expandable memory, NFC, waterproof case, fingerprint sensor, and a battery of 3,000 mAh with support for quick charge TurboPower. On the other hand, the Moto G5 should incorporate a 5-inch Full HD (1080p) screen, 13-megapixel main camera, 5-megapixel front sensor, SoC Snapdragon 430, 2 GB RAM, 32 GB expandable memory, fingerprints reader, and 2,800 mAh battery. Both with Android 7.0 Nougat operating system out the box. Presentation date: February 26 to 16:30.
Samsung
Samsung will hold its press conference at MWC 2017 on February 26 at 19:00. During the event, we should attend the presentation of the Galaxy Tab S3 tablet, the Galaxy TabPro S2 Tablet PC with Windows 10 and the Galaxy Book notebook. We will not know anything about the Samsung Galaxy S8, whose presentation is planned for within a month or so. Otherwise, it is possible that Samsung present the 2017 editions of the Galaxy J series smartphones launched earlier this year after the Galaxy A (2017) series.
Finally, it is rumored that Samsung could present in Barcelona a prototype of a foldable smartphone. Nothing new in relation to smartwatches, products that the South Korean manufacturer usually launches in September at the IFA fair in Berlin.
Sony
Sony could present at the Mobile World Congress the alleged successor to the Xperia XA. Everyone expects it to have a 5-inch screen with Full HD resolution at 1080p, a fingerprint reader, a USB Type C port, and it should measure 145 x 66.8 x 7.99 mm and include an audio jack of 3.5 mm.
Sony is also expected to announce the leaked cell phones with model number G3221, G3121 and G3112. Sony G3221 is expected with Full HD display resolution, MediaTek Helio P20 chipset, Mali-T880 GPU, 4 GB of RAM and 64 GB of storage. The Sony G3221 is expected to have 23 and 16-megapixel cameras. As for the G3121 and G3112, they should have a screen of 5.2 and 5.5 inches, respectively, with Full HD (1080p) resolution, both powered by the MediaTek Helio P20 processor.
More than two years after the launch of the Sony SmartWatch 3, there are those who expect the SmartWatch 4 to be announced, with a new circular design and a large battery, NFC, support for Android Pay, integrated protection of the speaker against water (IP68), Wi-Fi connectivity, Bluetooth, ambient light sensor, accelerometer, compass, gyroscope and GPS.
It is possible that Sony will also present at MWC 2017 some of the new features presented at the beginning of the year at CES in Las Vegas, including a TV without speaker with 4K OLED resolution, as well as a UHP UBP-X800 Blu-Ray player. All this, on February 27 at 8:30.
Mobile World Congress 2017: Other presentations
Asus
Everyone envisioning the launch of a new Asus ZenFone in Barcelona, ​​specifically the Asus ZenFone Go, although it could also be called Asus ZenFone 3 Go, given the success of the normal version of this smartphone.
ZTE (and Nubia)
ZTE announced a few days ago that it had made the first smartphone capable of supporting 5G networks at gigabit speed. That means that it is ready to be presented to the public at the MWC in Barcelona.
Earlier this year, during CES 2017, ZTE also confirmed that it was working on a smartwatch with Android Wear to be released later this year -the first device of its kind. This smartwatch, now known as ZTE Quartz, could be seen for the first time at the Mobile World Congress.
ZTE's other brand, Nubia, has not scheduled its own press conference for these days, so it will not be present at the fair with its own stand. A pity, because many expected to find a new mobile phone, perhaps the successor of the Nubia Prague S, whose name could be, logically, Prague S2.
Vernee
The Chinese brand Vernee anticipated days ago that it will present in the MWC a top of the range smartphone called Apollo 2 and powered by the new Helio X30 processor with 64 or 128 GB of storage and up to 8 GB of RAM. Another of the smartphones planned are the Mars Pro powered by the MediaTek Helio P25 processor with 6 GB of RAM, and the device called Apollo X with MediaTek Helio X20 and Android 7.0 Nougat. And in addition, the Vernee Thor E of 5 inches with 8.2 mm of thickness and 149 grams of weight despite its enormous battery of 5,020 mAh. Finally, the cell phone Vernee Thor Plus, with 7.9 mm of thickness and with a battery of 6,050 mAh will be announced.
Meizu
The increasingly popular Chinese smartphone maker, Meizu, will hold its press conference on February 28. The date was announced through an invitation that only showed a ray in the foreground, flanked by the words "Faster Than Ever". We are confident in finding a smartphone with ultra-fast performance or ultra-fast charging technology for the battery.
No Mobile World Congress 2017: Xiaomi
Xiaomi is working on its next flagship smartphone, the Mi 6, whose announcement is not planned for Barcelona's MWC 2017, as the company has already confirmed that it will miss the European event because it has nothing new to share. A pity, again, due to the interest generated by the Chinese company.
MWC 2017: dates, events, presentations and everything else