It's time to make another comparison in relation to the best Android smartphones of 2016, and in this case focusing on two of the most famous Chinese manufacturers in the world: Huawei P9, with which the company has managed to approach the market monopoly, and Xiaomi MI5, which comes from a manufacturer that is conquering the world in record time and with record sales.
In fact, Huawei P9 is a smartphone with which the manufacturer has tried to impress by offering some features not often found in devices of the same price range, but at the same time with a general quality of the highest level. On the other hand, the Xiaomi MI5 offers elegance, performance and everything that can be found at the top of the market this year, yet manages to cost a lot less than others. We are talking about two phones at the highest level of China as an innovative and reliable (in these cases) country.
Features Huawei P9 versus Xiaomi Mi5
| | | |
| --- | --- | --- |
| Specs | Huawei P9 | Xiaomi Mi5 |
| Dimensions | 145 x 70.9 x 7 mm | 144.6 x 69.2 x 7.3 mm |
| Weight | 144 g | 139 g |
| Display | 5.2 inches | 5.15 inches |
| Resolution | 1080 x 1920 pixels | 1080 x 1920 pixels |
| Cameras | Front: 12 megapixels, f/2.2; Back: 8 megapixels, f/2.4 | Front: 16 megapixels, f/2.0; Back: 4 megapixels, f/2.0 |
| Software | Android 6.0 Marshmallow | Android 6.0 Marshmallow |
| Chipset | HiSilicon Kirin 955 | Qualcomm MSM8996 Snapdragon 820 |
| CPU | Quad-core 2.5 GHz Cortex-A72 & quad-core 1.8 GHz Cortex-A53 | Dual-core 1.8 GHz Kryo & dual-core 1.36 GHz Kryo |
| GPU | Mali-T880 MP4 | Adreno 530 |
| RAM/ROM | 3 GB/32 GB - 4 GB/64 GB (expandable up 128 GB) | 3 GB/32-64 GB - 4 GB/128 GB |
| Battery | 3000 mAh | 3000 mAh |
Design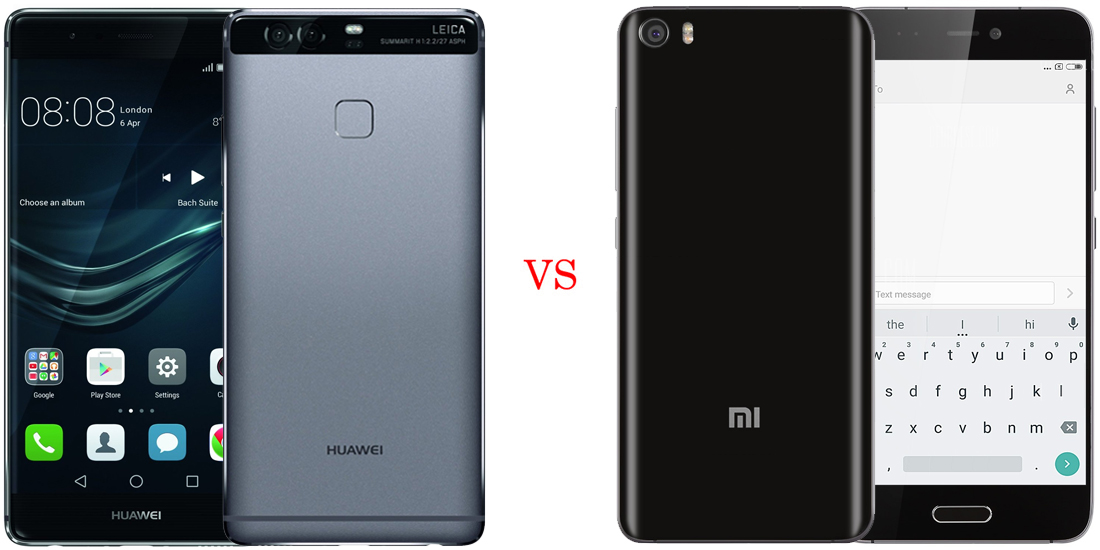 Based on the design and quality of construction, Huawei P9 is extraordinary. This device has a full design of metal, with the exception of a lower plastic band for the passage of the antenna signal (and the glass panel that covers the photographic section). It is a very thin and light smartphone, of great aesthetic care for handling that leaves no room for problems of any kind. When you hold it in your hand you have the feeling of using a truly premium device.
The Xiaomi Mi5 has a glass back cover, where whose frame is made entirely of metal. The back is curved and improves grip device greatly, and at the same time we also find here an extreme subtlety and a high quality design. However, it should be noted that, despite the extreme sophistication, gives the feeling of having a poorer quality of construction than the Huawei P9's.
Display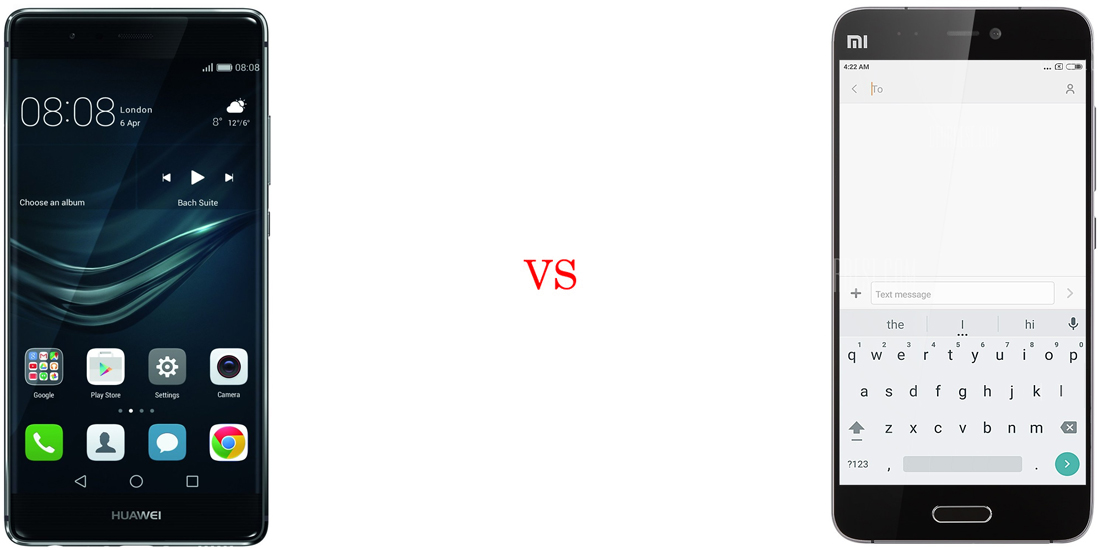 The Huawei P9 has a screen of 5.2 inches on the diagonal, which displays images at Full HD resolution of 1080 x 1920 pixels. It is equipped with modern technology NEO IPS on the front panel, and it provides a very high brightness that can be adjusted automatically, and good viewing angles. It is also true to reality when it comes to color reproduction.
Xiaomi Mi5 screen has a diagonal of 5.15 inches and displays images with Full HD resolution of 1080 x 1920 pixels. It is a very complete and perfect screen in what refers to fidelity: we have nothing to say about color reproduction, and even with respect to viewing angles. It also offers a good light reaching a level of blinding. If only slightly, the best view, in our opinion, is offered by the Xiaomi Mi5.
Camera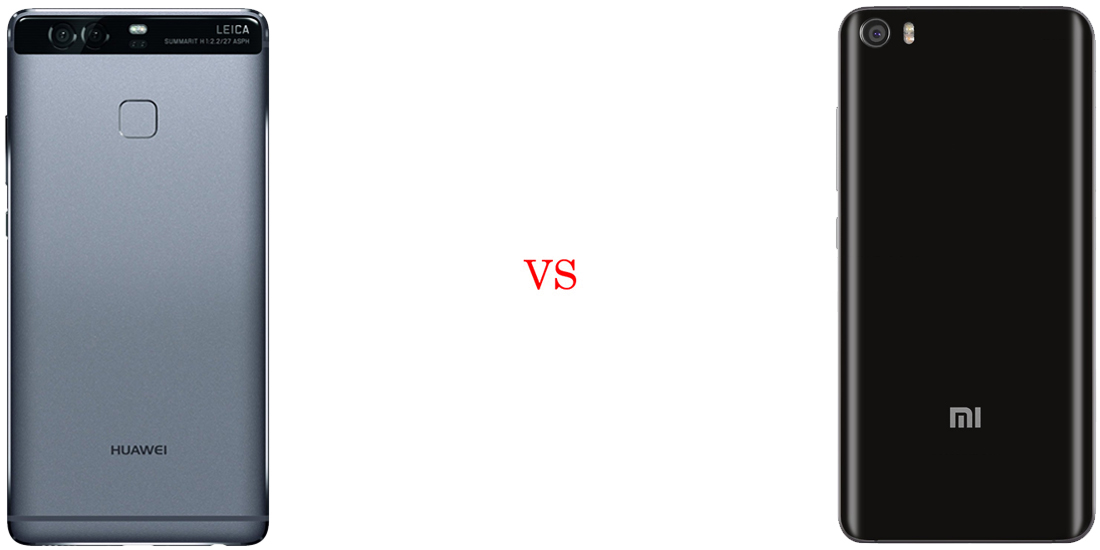 As for the photographic section, the Huawei P9 incorporates a dual main camera with a resolution of 12 megapixels, accompanied by dual LED flash. The second camera photographs in black and white and with a special technology allows capture vast amounts of light, something very interesting for professional images in any condition and useful. Excels this detail and thanks to this, colors are reproduced perfectly. We can even take pictures in RAW format.
The Xiaomi Mi5 has a main camera with a resolution of 16 megapixels with a surgical stabilized precision objective, which always takes very sharp images. This takes great photos with any condition (to greater light and low), with good detail and good color reproduction, but cannot reach levels of Huawei P9 camera.
Software/Hardware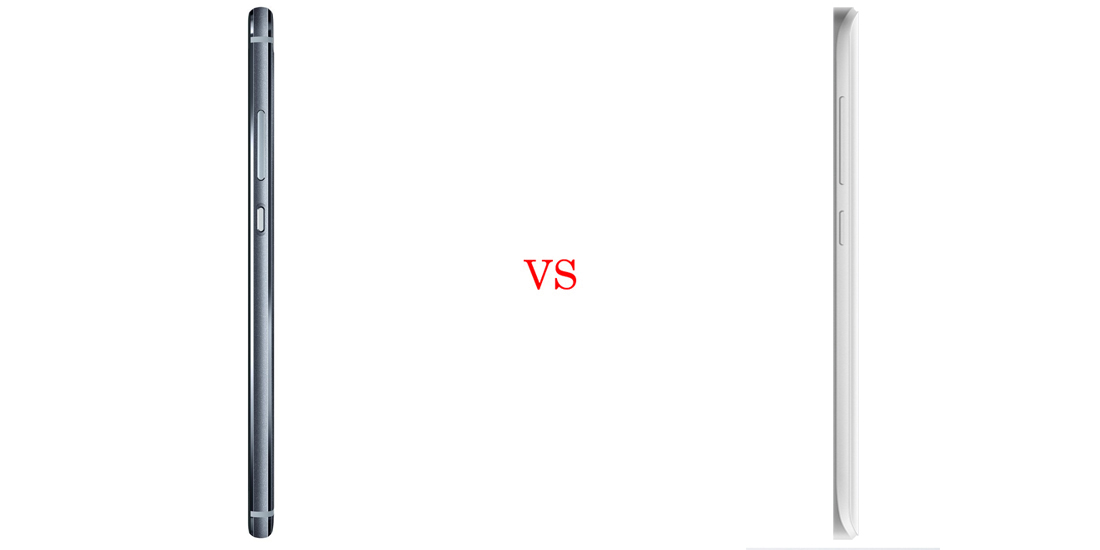 For Huawei P9, the Chinese manufacturer continued its tendency to use its own processors. so we have the presence of a Kirin 955 octa-core at 2.5 GHz maximum frequency, 3 GB of RAM and internal storage and 32 GB expandable with micro SD up to 128 GB. Thanks to this powerful hardware, but also impeccable optimizing of the user interface, the performance of this device is always very agile, whatever the type of application and even video game.
The Xiaomi MI5 was released in three different versions, one of which is a limited edition, so let's talk about the most powerful versions on the market. The hardware section is made up of the most powerful processors from Qualcomm house as well as the most powerful in the world according to popular AnTuTu reference platform. We refer to the quad-core Snapdragon 820, with the first core Qualcomm Kryo running at 2.2 GHz frequency. Then you have 4 GB of RAM and 64 GB of internal storage. There is no application whose use may paralyze the operation of this device, speed and adaptation to one of the best multitasking devices in the world. It is obvious, therefore, that in terms of performance, we chose the Xiaomi Mi5.
Battery Life
The Huawei P9 has a battery with 3000 mAh capacity, which translates into a good battery life in all areas. In hours of conversation, for example, we can reach almost 15 hours, also exceeds 9 hours of web browsing and reached almost 9 hours of continuous video playback.
Xiaomi Mi5 also has a lithium battery of 3000 mAh with a fairly significant optimization. You can reach nearly 20 hours of talk time, almost 13 hours of web browsing and almost 14 hours of video playback. This means that Xiaomi has worked much more its Mi5 for this section and wins clearly.
Huawei P9 versus Xiaomi Mi5 (Comparative)