Samsung is making a lot of efforts lately to keep all of its devices up to date, especially when it comes to security. After the unexpected update of the Samsung Galaxy Note 2 and Galaxy Note 3 Neo and the security update for the Galaxy A5 happened yesterday, here is the Samsung Galaxy S7 Edge, which is already starting to receive the latest security updates of the month of April.
Today, in fact, it has been the turn of Germany (operator Vodafone), with an update that, among other things, is based on Android 7.0 Nougat, and whose distribution should continue on the other European markets (maybe not immediately, but within a few days, a few weeks at most, even taking into account that some Samsung Galaxy S7 and S7 Edge are still stuck in the February security patch, a bit sad for some devices that until recently were considered as the main top of the range of the company).
The deployment on the German market is marked by the firmware number XXU1DQD2, and appears to have been made available to both the Samsung Galaxy S7 and the S7 Edge sold by the operator in this territory. However, the April security patches do not seem to be the only integrated updates, as the change log also talks about several fixes made first hand by Google, and some bug fixes from the manufacturer, in order to optimize as much as is possible the software.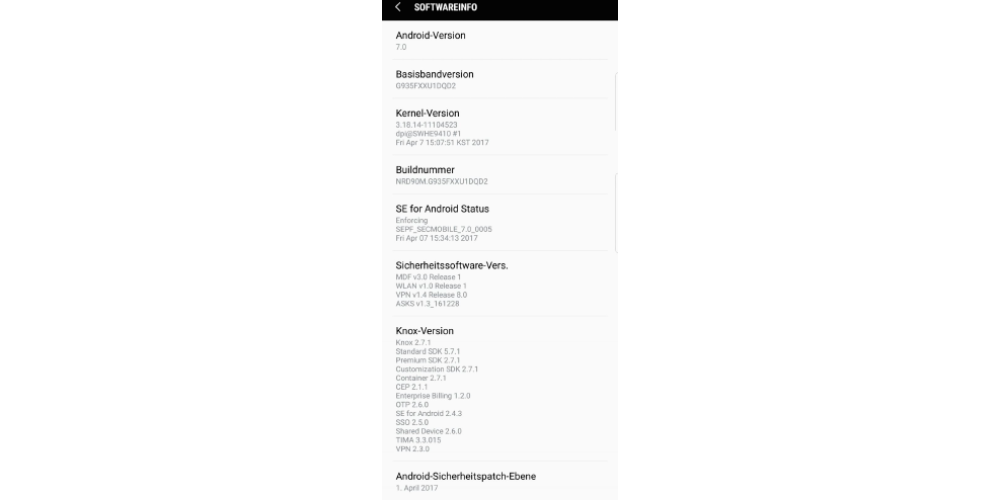 Samsung Galaxy S7 Edge receives April security patch in Europe