The Samsung Galaxy S7 Active could receive the update to Android 7.0 Nougat officially at the same time as its two brothers. For some hours, this news can be checked through GFXBench, the well-known benchmarking website that shows various specifications of smartphones, and in this case shows a device with Android Nougat on board and whose data match the Galaxy S7 Active. In the benchmarking portal we also found the Galaxy S6 and Note 5, both also appeared in recent weeks, a sign that the Korean company is probably testing this version of the operating system on different cell phones. Now is the time for the S7 Active, the rugged version of its latest flagship.
This device has the same specifications as the Galaxy S7. We are talking about a 5.0-inch screen with QuadHD resolution, Qualcomm Snapdragon 820 processor at 2.15 GHz and 4 GB RAM, 32 GB internal memory, 12 megapixel rear camera, 5 megapixel front camera and IP68 certification. Since this smartphone has the same hardware as the best known version of Samsung, it stands to reason that Android Nougat is ready to work on the device we talked about. In fact, the official update for the Galaxy S7 range is expected this month. Samsung has not given specific dates, but if we are lucky, maybe next week could begin the deployment of Android Nougat officially.
Anyway, there is still no official confirmation from Samsung about the update to Android Nougat in the Active version of Galaxy S7, so we can only wait for new events to happen, although it is relatively easy to imagine that the Galaxy S7 Active is going to receive this firmware update shortly after the classic version. We are sure that in any case, most users are looking forward to Android 7.0 Nougat on their Galaxy S7 and S7 Edge, as the Samsung Galaxy S7 Active did not officially sold in the West (where we can obviously buy it in other ways thanks to the internet).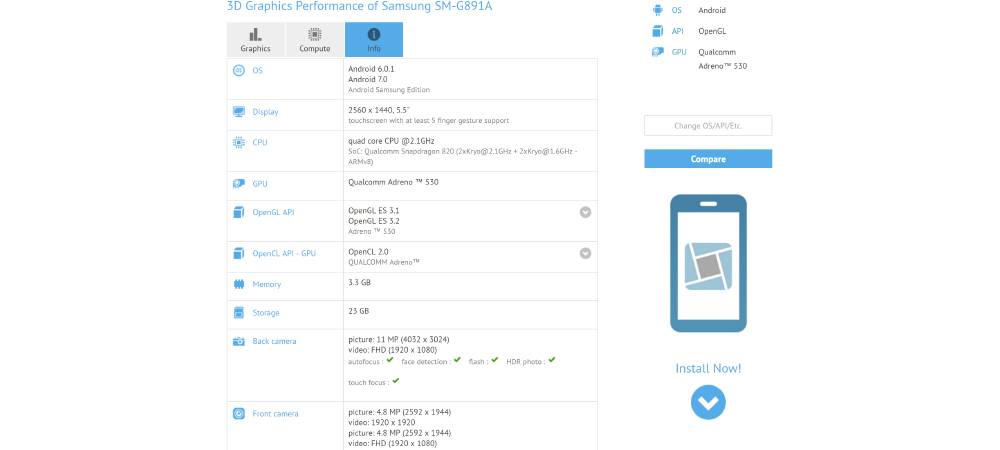 Samsung Galaxy S7 Active seen in GFXBench with Android Nougat