In the last hours it has been found within the database of GFXBench an Android smartphone of dubious origin, because it is not clear which model is or what manufacturer produced it. But we know that it is a phone that could become the best smartphone with screen less than 5 inches.
However, many are already those who speak about the OnePlus 3 Mini, which take the place vacated by the current 5-inch model OnePlus X. We knew, by official statements made by the company, it will not have a direct successor. But what if the company prepares an indirect successor? A smaller variant, but with high-end specifications.
This assumption is based on the appearance of a new Android smartphone that still leaves open and unresolved questions, despite the words expressed a few weeks ago by the co-founder Carl Pei: Shenzhen company from now on will focus its efforts on developing a model further, and focus on contingent factors of equal importance. That is, the marketing necessary to spread the brand beyond the current circle of stakeholders, and especially in the post-sales service.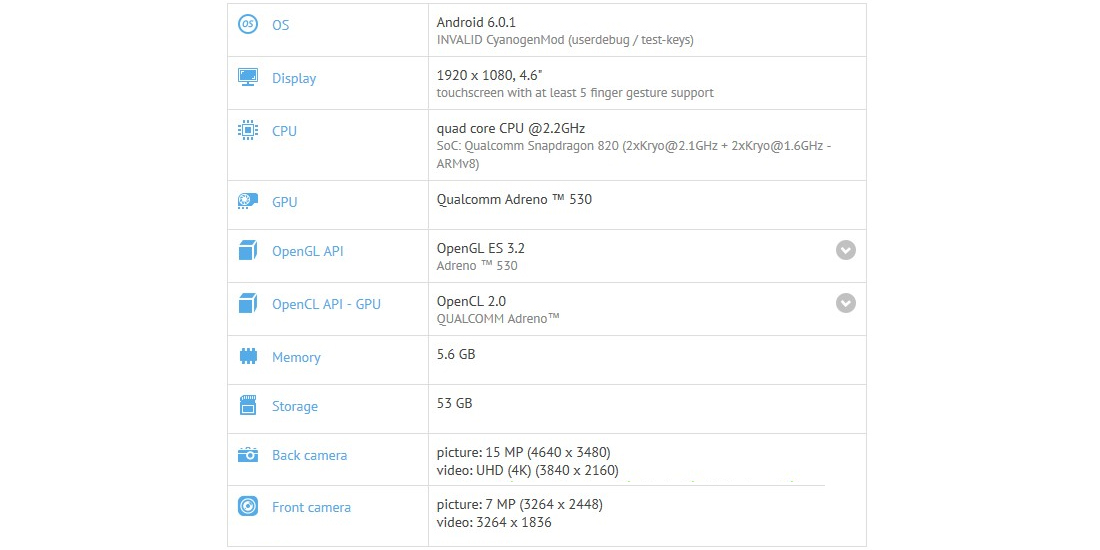 Nevertheless, the technical specifications shown by GFXBench speak very clear and coincide with the OnePlus current policy: this mysterious Android smartphone would have a 4.6 inch screen with Full HD resolution (1920 x 1080 pixels), Qualcomm Snapdragon 820 processor running at 2.2 GHz, Adreno 530 graphics card and an impressive hardware section features presence of 6 GB of RAM and 64 GB of storage memory. And the whole is crowned by two cameras of 15 and 7 megapixels, while the software will be the operating system Android 6.0.1 Marshmallow.
We are facing a story repeated over time, and has already been officially denied by the Chinese company (as in previous cases). It has been the same Carl Pei who has tried to silence the rumors via Twitter, with a quick "no" that is not even a sentence. The key issue to encourage these rumors is in the basic hardware which would have the OnePlus 3 Mini, maintaining the same specifications as the OnePlus 3 sold in Europe (Snapdragon 820, 6 GB of RAM), surrounded for the occasion by other obvious changes: the presence of Android in version 6.0.1 structured according to the paradigms of CyanogenMod. Nevertheless, it seems that it is still too early to confirm some suspicions.
OnePlus 3 Mini appears in GFXBench as an Android smartphone with 4.6-inch FHD and 6 GB of RAM