Good news, apparently: a new benchmark for the OnePlus 2 has appeared in Geekbench. Something that in itself would not mean anything, since we are talking about a smartphone launched a year and a half ago. But of course, the news is another: the update to Android 7.1.1 Nougat. Months ago, OnePlus dropped the idea that it would not update the OnePlus 2, and this implies that the reality is totally different. In fact, many always believed that the latest version of Android for OnePlus 2 would eventually arrive, only so far has the Chinese manufacturer had dedicated its attention only to the OnePlus 3 and 3T, leaving in limbo to the customers of previous version.
Geekbench has given new impetus to users' hopes, which now see more support possible to see the updated device to the latest version of the green robot. The famous web shows the specifications of the OnePlus 2 with Android 7.1.1 Nougat on board, maybe the beta. In any case, we remember that OnePlus has not issued official information on this update for its second smartphone, but the sighting of Geekbench could confirm an update in the near future.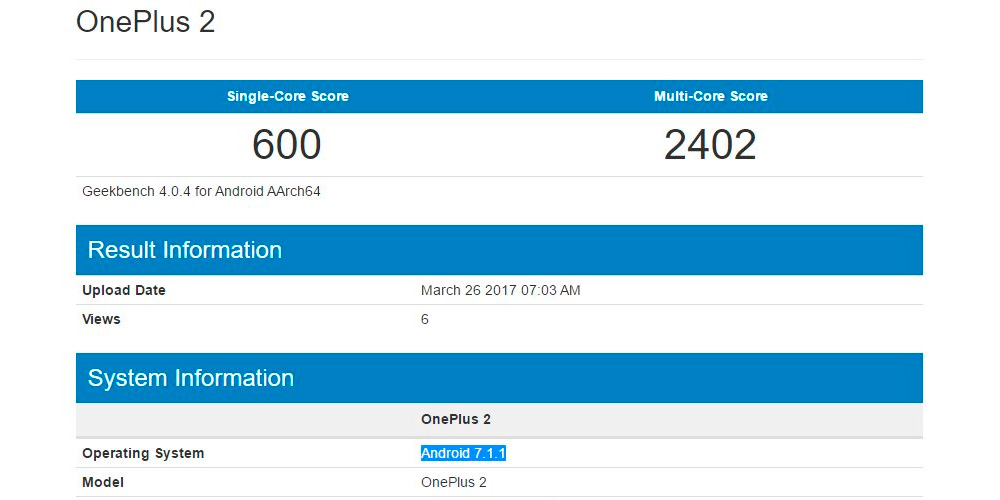 Until now, OnePlus has dedicated time to this device only for minor changes, focusing more, as we have said, on the OnePlus 3 and 3T. However, the fact is that the OnePlus 2 has hardware that could work perfectly on Android Nougat, and many fans owners of this smartphone would be very happy to have the latest version of the operating system from Google.
Be that as it may, everything is left to OnePlus, hoping to receive good news in the short term. It is clear that having found a benchmark with OnePlus 2 updated to Nougat, optimism is high; but confirmation of impending release is necessary. That or at least the announcement of a work in progress. As always, our commitment is to keep you informed about future updates.
OnePlus 2 appears in Geekbench updated to Android 7.1.1 Nougat