It is rumored that LG would be testing Android 7.0 Nougat on its high-end smartphone launched in 2014, the LG G3. The LG G3 is one of the top smarthpones from the G range made by the company from South Korea and released in 2014. It was presented only with Android 4.4.2 and later received update to Android 5.0 Lollipop and Android 6.0 Marshmallow.
Two and a half years later, according to rumors, the former flagship of LG could receive the latest version of the operating system, but for now would be checking for proper operation. This rumor would have resulted from a supposed reference tests performed on Geekbench indicating Android 7.0 Nougat version as operating system. The information is not official, although it has some truth, so we invite all readers to take with caution because we do not know to what extent the reliability of the test (visible in the picture) is final.
The LG G3 with Android 7.0 Nougat would receive as a result of the test 929 points in single-core and 2977 points in multi-core, a result not all bad, considering the characteristics and age of the phone. The LG G3 has proven over time to have a respectable very good, technical specifications even today, to the extent that its performance is being a great success even today. If indeed the LG G3 is ready to receive Android 7.0 Nougat, we will most likely have to wait a few months and, above all, assume that the priority for the update is focused for now on the LG G4 and LG G5.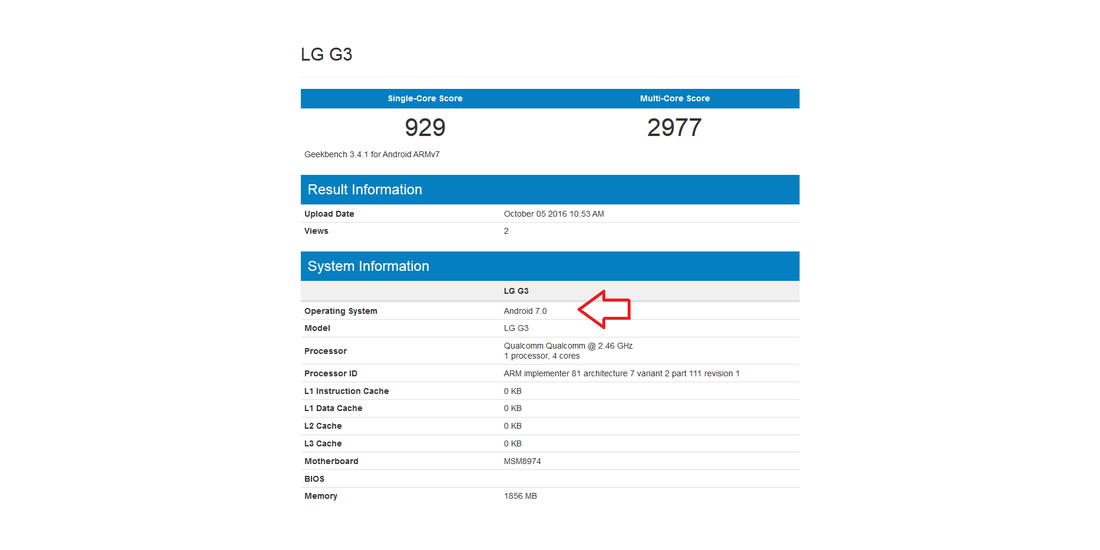 LG would be testing Android 7.0 Nougat on the LG G3