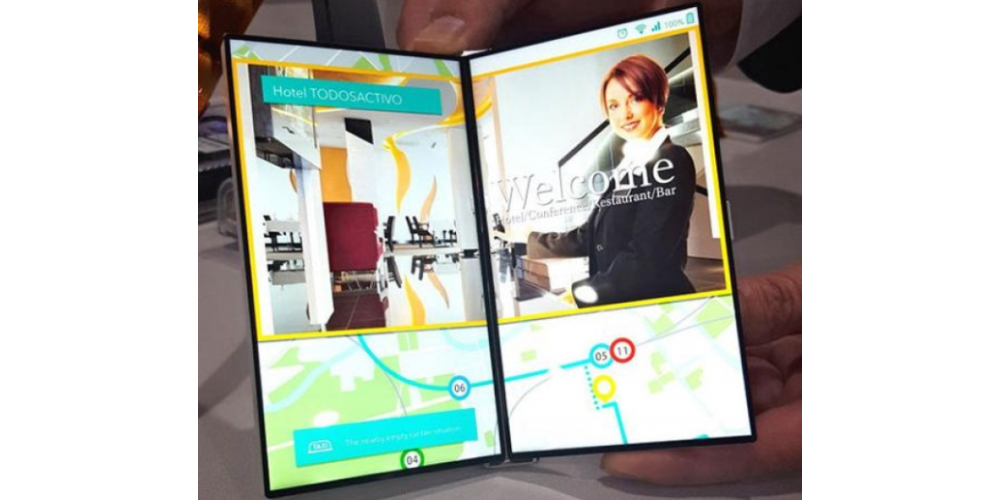 Japan Display, a joint venture formed by Sony, Hitachi and Toshiba, has recently introduced to the general public the first folding LCD display with dual panel for cell phones, which can be opened and closed like a book or as an album of pictures. As shown by the Japanese group, the screen makes use of ultra-thin frames, can employ from two to three panels, and these are separated by less than 2 mm. An ideal solution for multitasking, such as watching videos and surfing the Internet (without taking up space beyond a pocket).
The screen designed by JDI could be integrated for the first time into a smartphone in the summer of 2017, but the company has already begun working with some smartphone manufacturers in China to jointly develop devices with this form factor. Another special feature of this new JDI product is that the screen seems to be removable. The Japanese website states that the screen can be connected to an external display and is also ideal for multitasking, watching videos and browsing the web, thus enjoying higher resolution and a wider view.
The most interesting news is that the company plans to start massive production of this particular screen, so even if development starts in China, it is more than likely that it will end up here without much delay. In any case, we will see how long it takes for JDI, in close collaboration with Chinese manufacturers of smartphones, to jointly evolve new devices to this new type of screen (similar to video game consoles like NDS). In about 6 months we will witness this new form of consumption, and a new design; who knows if coinciding with the launch of the Galaxy S8 (which, rumored, could also incorporate a folding screen, although instead of being LCD would be AMOLED, surely).
JDI presents a folding dual display for smartphones