It was about five months ago that the first details of the Ocean, an HTC Android smartphone with very interesting characteristics (which will in fact be the real top of the range of the new Taiwanese line that were released in January and were also present in the MWC 2017 of Barcelona). In a video, published in January by the well-known leaker Evan Blass, the Edge Sense feature was shown for the first time, allowing several operations without touching the screen. According to the latest rumors, the device is real, it is called HTC U and will be announced by the Taiwanese manufacturer in April.
Therefore, the HTC U, hitherto known by the codenamed HTC Ocean, should use a Snapdragon 835 processor, WQHD 5.5 inch display, a Sony IMX362 sensor of 12 megapixels in the front and a Sony IMX351 camera of 16 megapixel in the rear, with 64 or 128 GB of internal memory expandable with microSD. There is no information on the amount of RAM it will contain, but not less than 4 or 6 GB is expected. These are not, however, the features that make the HTC U an interesting smartphone, not even the new Sense 9 interface, but rather Edge Sense, a revolutionary feature that will change the way people interact with smartphones.
Edge Sense and the importance of the edges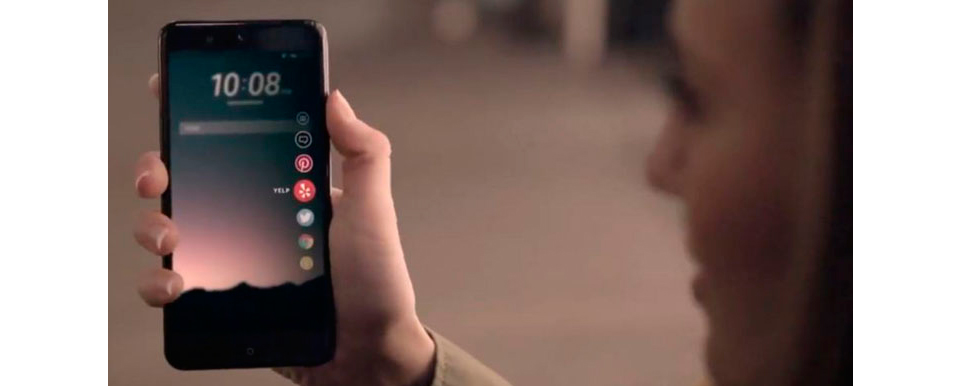 That is, although the Google operating system (Android Nougat) will have been customized with the Sense 9 interface, that is not the important detail. In fact, the great innovation is on the edges of our smartphones, from now on touch sensitive. All thanks to Edge Sense, a feature that allows you to control the interface or any app by sliding your finger on the metal structure of the phones, through which the user can perform several actions with a gesture on the left and right edges of the device.
According to two videos shown by Evan Blass, Edge Sense will use the entire edge to control all the functions of the phone. It will be possible to open a launcher quickly, or an application, but also control the playback of a movie, adjust the volume and take a selfie. The features would be highly customizable and could mark the much-anticipated turning point for HTC, which for a long time has been sailing deep water and could be relaunched with the HTC U.
According to Evan Blass, this smartphone will be introduced in the second half of April and will hit the market in early May.