After some the months on the market, we decided to compare two devices of different brands, but with hardware in principle very similar (and dual SIM): on the one hand we have the Xiaomi Redmi 3 Pro (mid-range smartphone for an incredible price) while on the other we have the Huawei G8 (or Huawei GX8 in the Western version). Both devices are designed for the same type of target, albeit with a price variation that can be decisive for users, and today we will compare some aspects, which will certainly also help you to decide whether to buy one or the other.
Features Xiaomi Redmi 3 Pro vs Huawei G8
| | | |
| --- | --- | --- |
| Specs | Xiaomi Redmi 3 Pro | Huawei G8 |
| Dimensions | 139.3 x 69.6 x 8.5 mm | 152 x 76.5 x 7.5 mm |
| Weight | 144 g | 167 g |
| Display | 5.0 inches | 5.5 inches |
| Resolution | 720 x 1280 pixels (pixels density ~294 ppi) | 1080 x 1920 pixels (pixels density ~401 ppp) |
| Cameras | Front: 13 megapixels, f/2.0; Back: 5 megapixels, f/2.2 | Front: 13 megapixels, f/2.0; Back: 5 megapixels, f/2.4 |
| Software | Android 5.1 Lollipop (MIUI 8.0) | Android 5.1 Lollipop (Emotion UI 3.1) |
| Chipset | Qualcomm MSM8939v2 Snapdragon 616 | Qualcomm MSM8939 Snapdragon 615 |
| CPU | Octa-core (4x1.5 GHz Cortex-A53 & 4x1.2 GHz Cortex-A53) | Octa-core (4x1.5 GHz Cortex-A53 & 4x1.2 GHz Cortex-A53) |
| GPU | Adreno 405 | Adreno 405 |
| RAM/ROM | 3 GB/32 GB (expandable) | 3 GB/32 GB (expandable) |
| Battery | 4100 mAh | 3000 mAh |
Design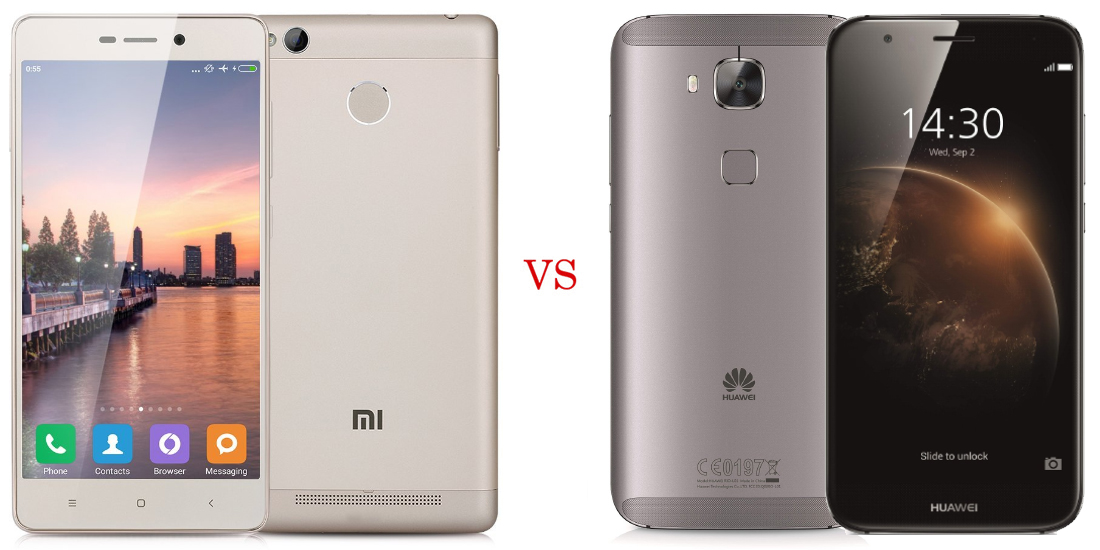 In terms of design and materials, the Huawei G8 has an advantage: it is more personal and unique, with a more refined and less anonymous design, while XiaomiRredmi 3 Pro, made of metal and with a good design (less heavy and smaller), it provides care but less striking appearance. However, if you do not give much importance to the image itself, but care in the use of materials and design, the Huawei G8 is 2.5D, a more favorable position for the main speaker and the less pronounced thickness (despite being larger). On the other hand, the Huawei G8 also has some obvious flaws, such as the rear camera, protruding, or plastic inserts for antennas that are very obvious, while the Redmi 3 Pro, having rounded edges, are very pleasant in the grip with one hand.
Display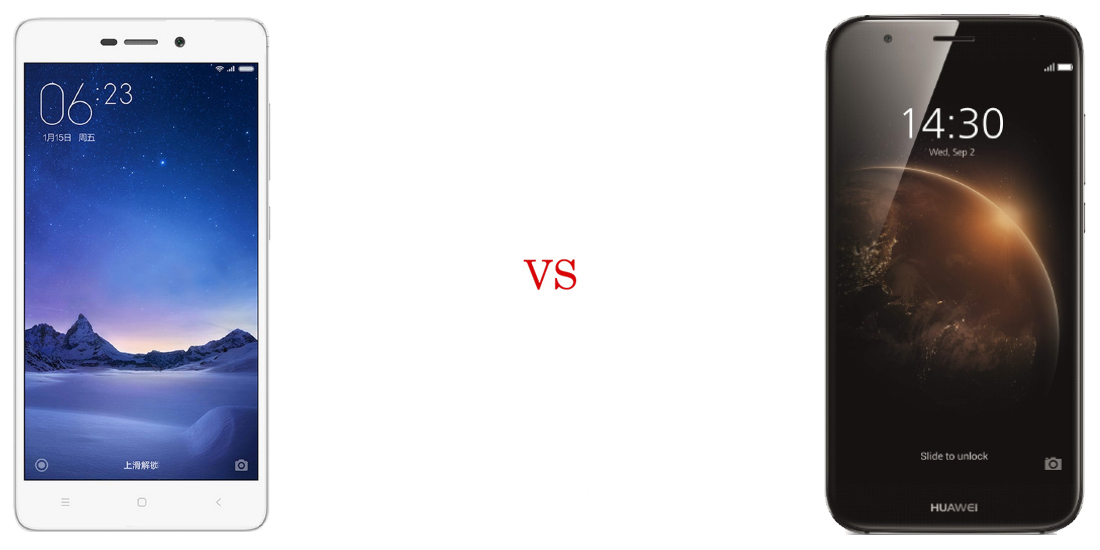 The Xiaomi Redmi 3 Pro has a disadvantage that, as we shall see in the end, results in a great advantage, and is the HD screen as the main ingredient for an unbeatable battery life compared to many other smartphones (midrange and high-end). However, it is a 5-inch screen with screen density of 294 ppi and a good oleophobic, good visibility under the sun and good color reproduction. The pixels are not seen and the only criticism is that the screen becomes darker or lighter at times, though it is as reprehensible as commendable (if you do contrast smart light or viewing angles form).
Huawei G8 screen is covered by a Gorilla Glass 4, slightly rounded at the edges. The dimensions are very generous, and perhaps the big difference between this and Xiaomi smartphone, due to the large screen of 5.5 inches diagonally. It has a LCD panel and not AMOLED as in the Mate S. However, the quality is pretty good. It has a Full HD resolution of 1080 x 1920 pixels with a density of 401 ppi. The images are crisp and the colors are vivid and realistic. You can also adjust the color temperature to reach more personal levels. Finally, the screen is bright enough with 460 nits, and looks good even under sunlight.
Camera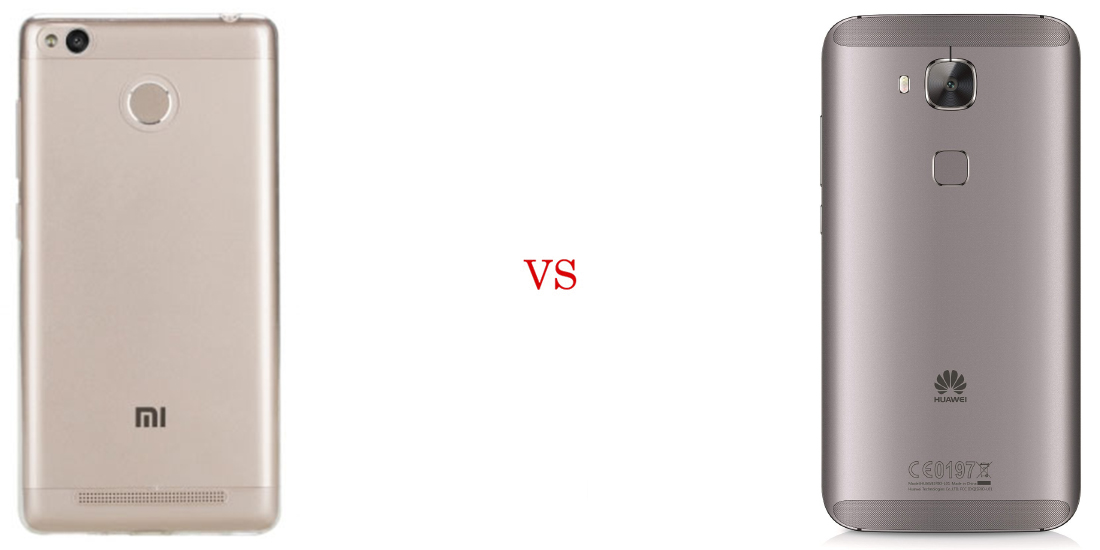 The challenge in the photographic section is usually where Xiaomi tends to lose, or have a more negative general opinion, and in this case the Huawei G8 remains in first place, even if the same modules 13 and 5 megapixel are also present in the Xiaomi Redmi 3 Pro. Despite this, the latter is easier if you want simply "point and shoot". Both devices offer high-quality images even in low light conditions, the video quality is sufficient considering the price range of the two devices, but nothing special if compared to the high end. In favor of Huawei are all customizations systems camera applications, which facilitates taking photos based on the predefined filters.
Software/Hardware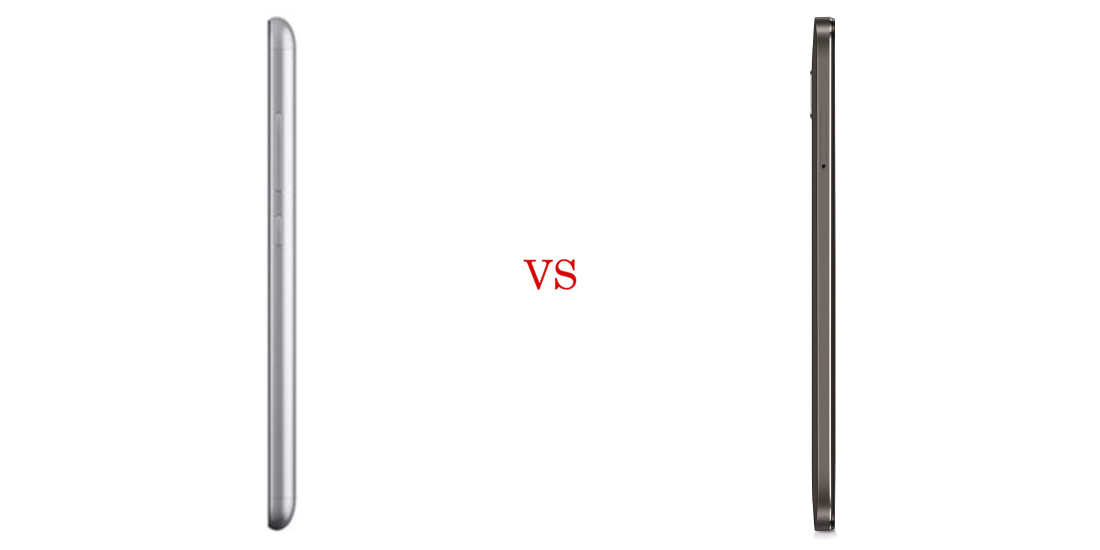 MIUI and EMUI are proprietary interfaces that modify the operating system version supplied, in this case we have the Android 5.1 Lollipop on both devices, MIUI 8.0 (now available) for Xiaomi Redmi 3 Pro and Android 5.1 with EMUI 3.1 for Huawei G8 . In both cases the user interface provides everything needed to use the device immediately: they are fully customizable via the integrated solution to manage the problems application, but in fact, between the two, MIUI shows better management of both themes the vastness of the material offered, which makes personalization to a slightly higher level. Design lovers will agree with this statement, because this material is practically absent in the Huawei G8 more limited.
As for the hardware, and using benchmarks on AnTuTu, the winner of this round is the Xiaomi Redmi 3 Pro, which in daily use proves to be moderately more fluid and responsive than Huawei G8. The first reacted very well under conditions more demanding, rarely is heated and when it happens is a slight extended heat dissipated soon, unlike the second, showing a small gap, and sporadic overheating in the fingerprint digital sensor (also available in the Redmi 3 Pro).
Battery Life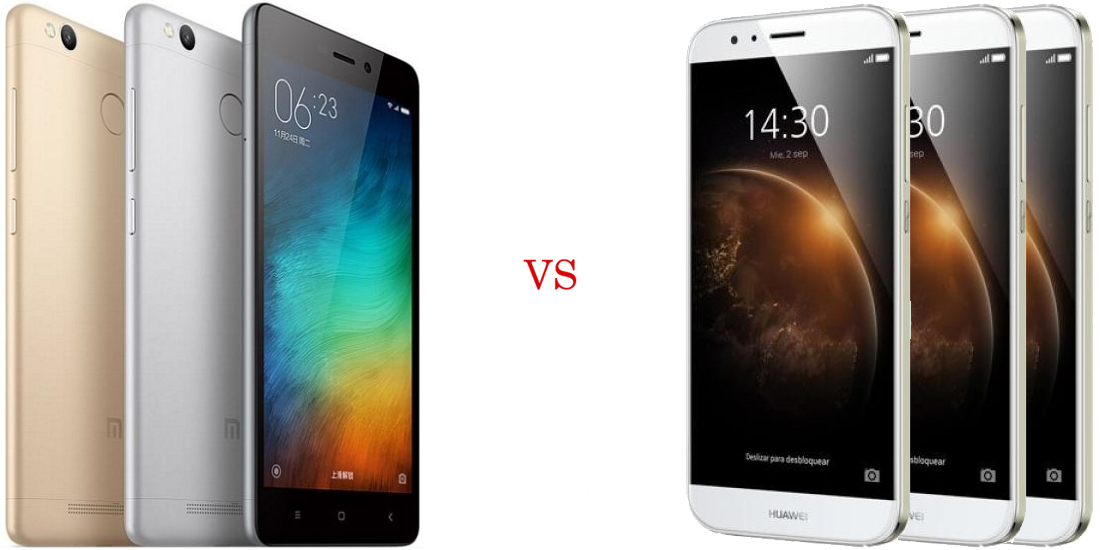 The winner of this final round is again the Xiaomi Redmi 3 Pro with its battery of 4100 mAh, competing against "only" the 3000 mAh battery of Huawei G8. Of course we consider average use, without any active energy saving. But if we were to consider the latter option would be just as likely to Huawei G8 win, thanks mainly to the extreme conservation of energy called as "ultra", which, however, can make and receive calls and messages, something which is certainly useful in extreme conditions. With respect to the full charge speed of the two devices, we can say that the Xiaomi Redmi 3 Pro definitely spends much less time compared to the Huawei G8 despite having superior flow battery.
Xiaomi Redmi 3 Pro vs Huawei G8