The Sony Xperia Z5 is the last major release of 2015, a year that is ending. In contrast, the Samsung Galaxy S6 was one of the first high-end smartphones released this year. Nevertheless, the latter device is still considered one of the best, and we will compare both to see the place of the latest phone by Sony.
Design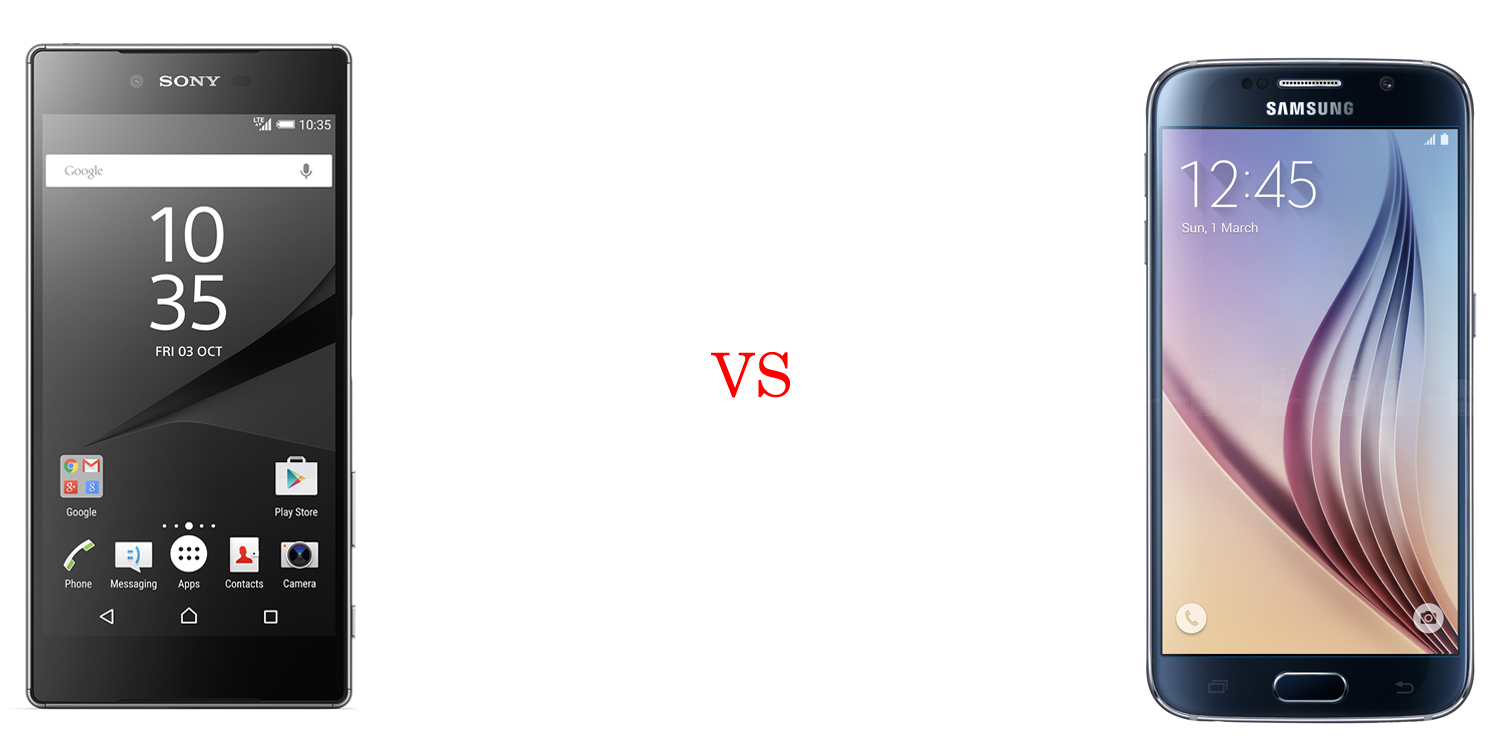 As you can see in the pictures, the main difference is that the Sony device is longer and more rectangular than the Samsung Galaxy S6, whose corners are more rounded. Regarding the use of materials, we could say that the design is not far from one terminal to another. In addition, there are two of the few high-end phones that have not followed the trend of bringing 5.5-inch screens, which makes them much more compact than the competition and makes both bring a greater screen in terms of body.
But beyond the similarities, each of these companies have a different way of understanding the design, and these two products are the perfect example of this. The Sony Xperia Z5 seems to show few differences from their predecessors because Sony felt the need to maintain a consistent design release after release, its label OmniBalance implemented in each of its smartphone. In any case, both have been criticized for design, one for being continuist and the other for breaking with everything that had given personality to the Galaxy S range.
Display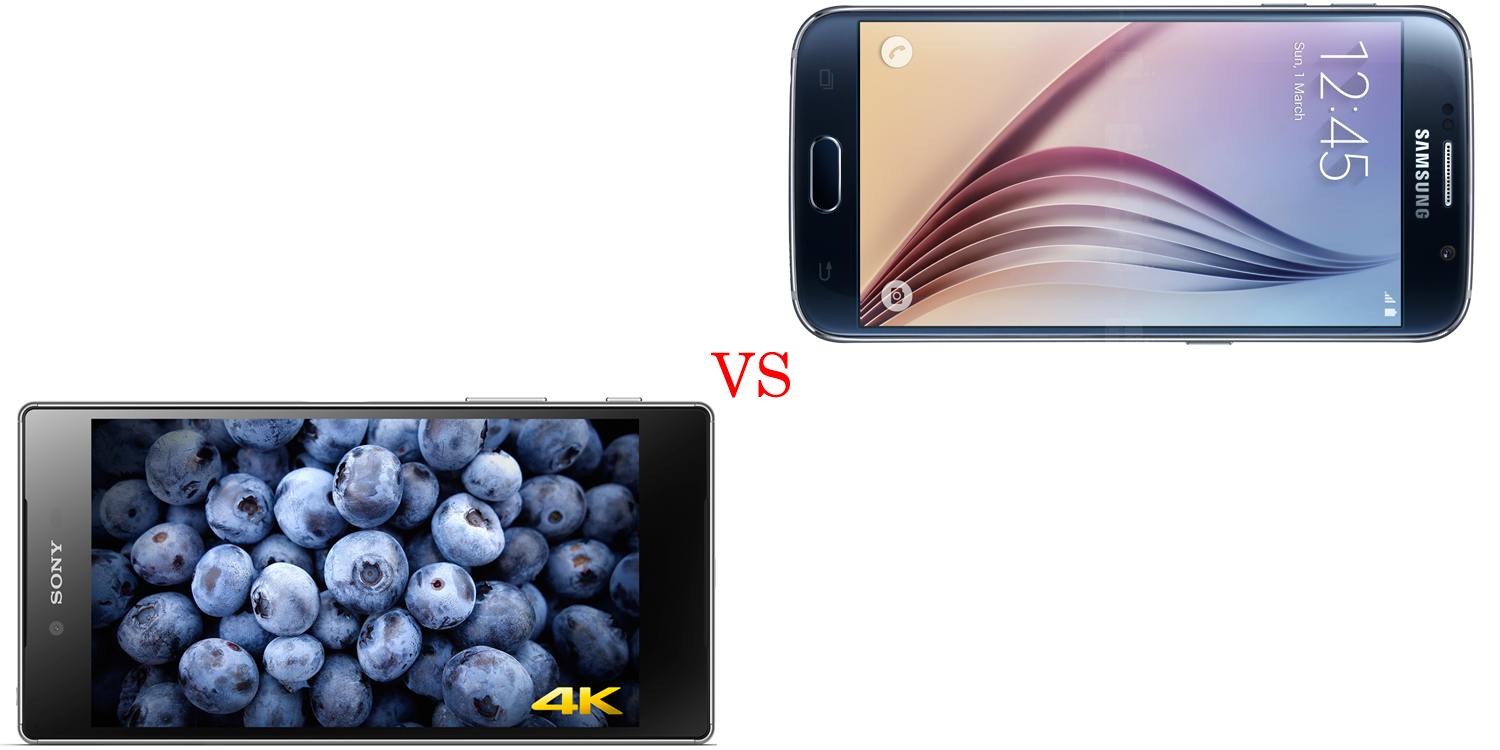 The screen of the Sony Xperia Z5 is one element has remained unchanged compared to Xperia Z3, with a diagonal of 5.2 inches and FullHD resolution (1920 x 1080 pixels). Sony also includes several improvements that enhance image sharpness and colors, they call this X-Reality and super vivid mode. Both are disabled by default, but can be activated from Screen settings.
The Samsung Galaxy S6 was considered the best screen in the smartphone world right out of the oven. Especially having a resolution of 2560 x 1440 pixels and 557 ppi (QHD HD Super AMOLED and 5.1 inches).
Cameras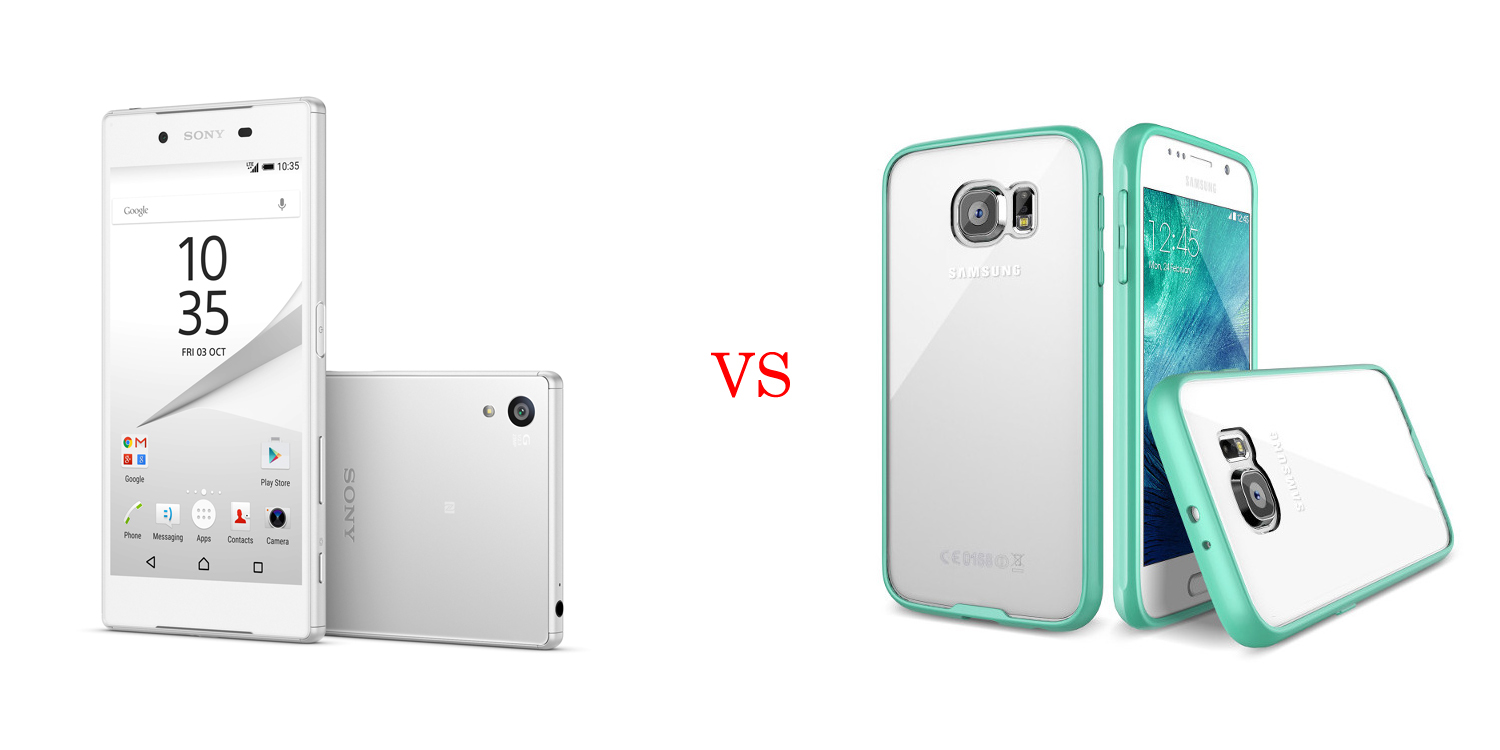 Let's focus in this section, since both companies have given much importance in both smartphones. For Sony, the rear camera maintains Exmor RS up to 23 megapixel resolution. The focus system has been improved with phase detection pixels and Sony says it is the fastest one, allowing focus on objects in just 0.03 seconds. It also records videos in 4K, takes high resolution zoom of 5x, digital image stabilizer and ISO sensitivity reaches 12,800 in photos. At the front, on the screen, it integrates a second sensor, Exmor R and 5 megapixels in this case. It is capable of recording videos in FullHD and lens has a focal length of 25 millimeters.
On paper, the new Samsung Galaxy S6 was undoubtedly the greatest piece of engineering which refers to smartphone camera as it has all the advances for decent images of an SLR camera: 16 megapixel front camera with lens aperture of f/1.9. With regard to video, user experience has also improved markedly in the case of Samsung and has some improvements like the ability to focus on a subject automatically and follow the entire scene. In the case of video, the Galaxy S6 can reach to 4K resolution.
Software/Hardware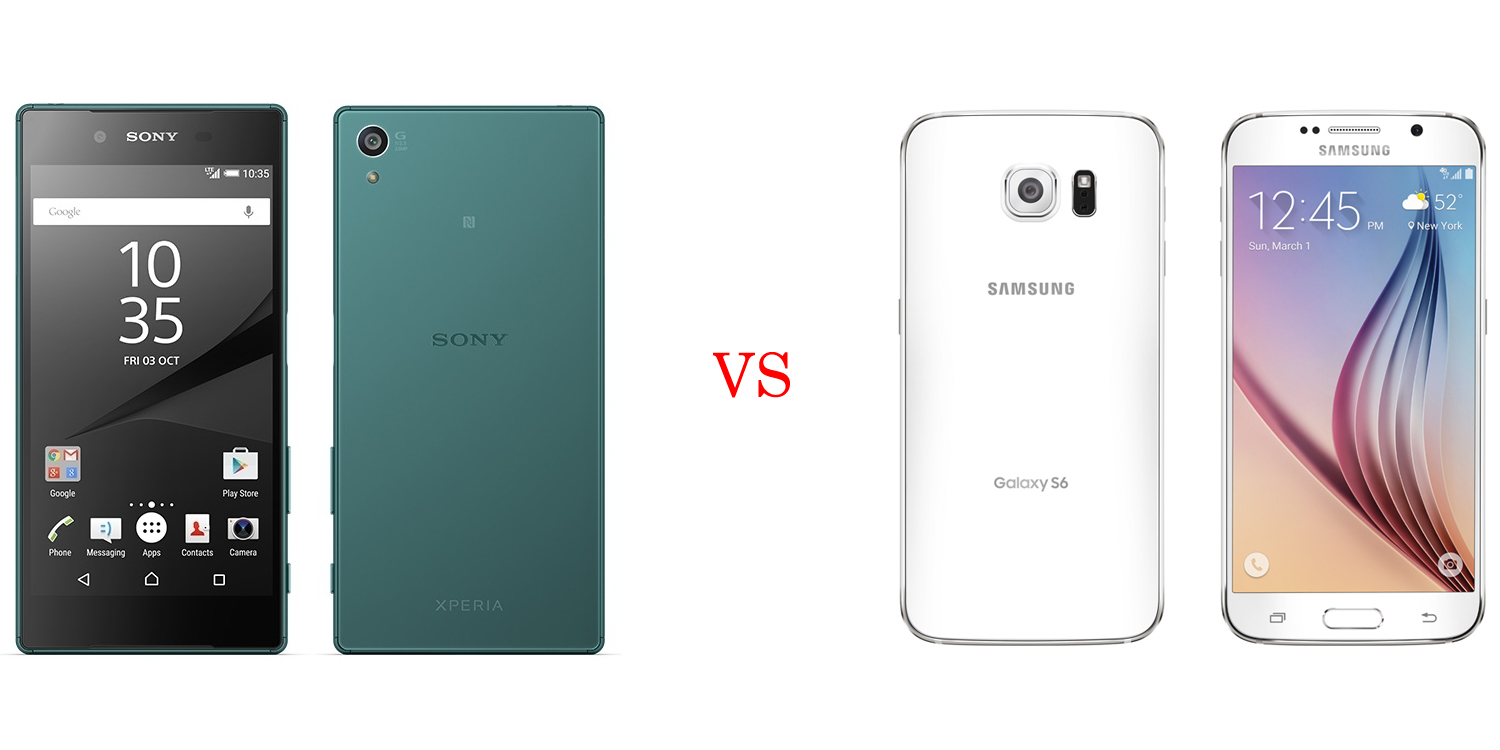 Special functions are in this much more important than it would be in any case for other brand model. This is because both Samsung and Sony are aware that their products are not just Android phones. Most users of these smartphones identifies products from companies like Sony or Samsung. Their community of followers is larger than other brands and exclusive functions work as a lure for potential buyers.
One of the characteristics which have both phones is the fingerprint scanner, but the Sony Xperia Z5 brings it to one side, while the Samsung Galaxy S6 is housed in the home button. This makes the sensor more accessible for the Xperia when we have the terminal in one hand while when we let the smarphone on a surface S6 sensor is clearly more accessible.
However, in this regard, the Sony Xperia Z5 does have some pretty innovative features, like the ability to play PlayStation 4 with the phone. In addition, the IP certificate does Sony Xperia Z5 submersible in water, like their predecessors, even with the micro USB port and mini headphone jack exposed. The truth is that so far the performance of the Samsung Galaxy S6 has been impeccable and best seen on Android to date, with 3 GB of RAM. Delays in this phone are nonexistent and the fluidity with which passes from one task to another is amazing.
The Sony Xperia Z5 has a good performance, thanks to its Snapdragon 810 and 3 GB of RAM. However, this processor, despite being one of the most potent there brings an important problem of heating. In the Z5 optimization software has managed to alleviate overheating. Sony has managed to fix everything and has managed to squeeze its full potential. According to Antutu Benchmark numbers (app to measure and compare the performance between devices), the Sony processor surpasses Samsung processor over 5000 points.
Autonomy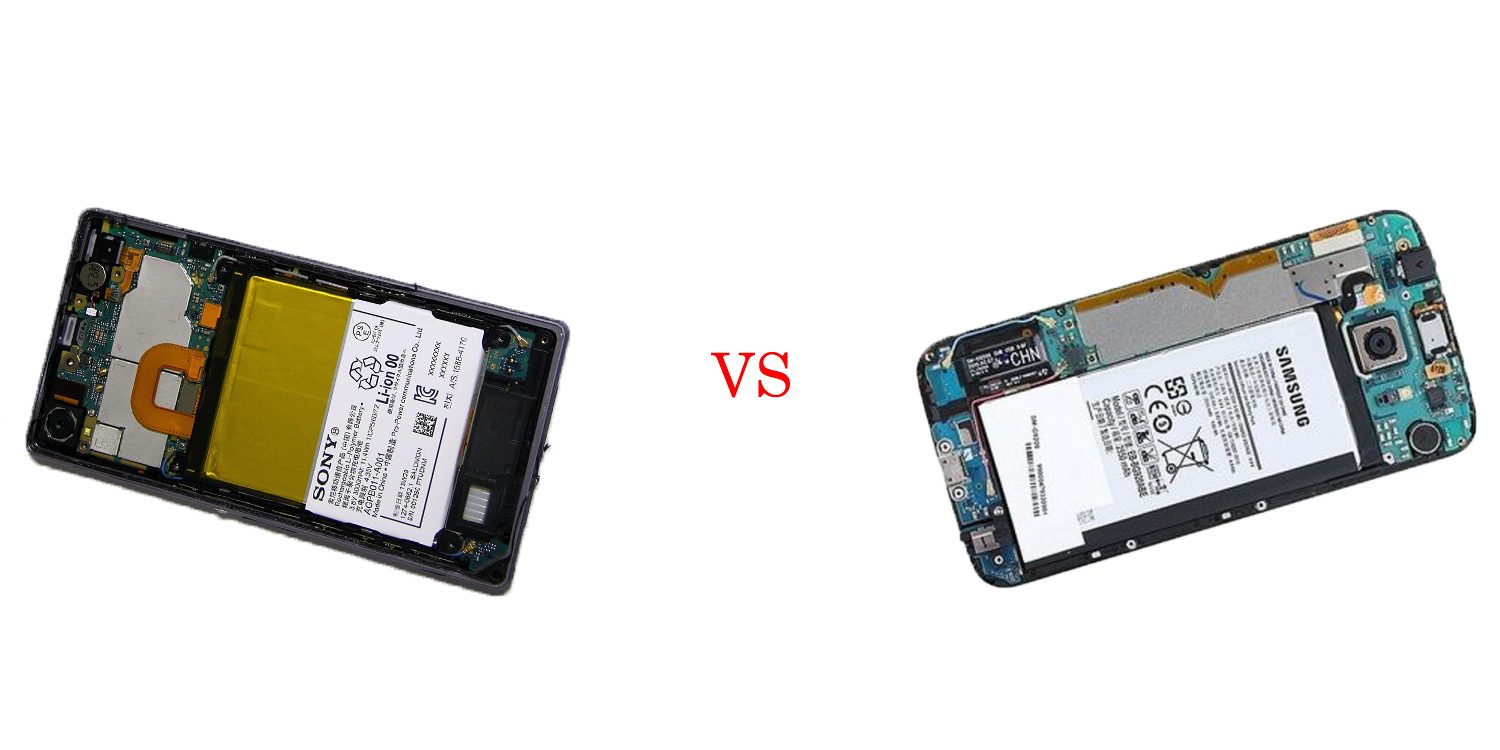 Both Samsung and Sony have been keen to reduce the size of their batteries on their flagships in favor of an improved design. Still, the Samsung Galaxy S6 also features wireless and fast charging. Sony, despite having reduced the size of the batteries in its Xperia Z line, has never neglected the autonomy, which has always brought relatively satisfactory results. With the new Xperia Z5 comes a new promise of Sony to bring autonomy to two full days in the three new Xperia handsets.
And it's true, Sony has endured up to 48 hours of moderate use, while making the most have come just at 24 hours of use, including 4K recording at intensive energy. These conversions are only a dream for the Galaxy S6 that inevitably needs to be charged every night or even earlier if we are a fairly active users.
Sony Xperia Z5 versus Samsung Galaxy S6