In this new comparison, let's talk about two of the best smartphones ever made: OnePlus 3 and Samsung Galaxy S7, two different devices together, but both provide incredible performance and greater battery life for all uses. Therefore, when comparing, we must consider several different factors.
OnePlus 3 is a terminal with outstanding performance and high level specifications. Not only that, the Chinese manufacturer has focused on improving value for money, trying to offer a device that is worth every penny and could be accessible to those with a more limited budget to buy high-end smartphones.
On the other hand, we have the Samsung Galaxy S7, the phone that more public attention received in 2016 by the Korean giant still holds the world record in the smartphone market. The aim of the manufacturer is in this case provide a perfect device, regardless of expense, and never disappoint with each use.
We remind you that you can find the best prices for both cell phones following the links available in the first paragraph.
Features OnePlus 3 versus Samsung Galaxy S7
| | | |
| --- | --- | --- |
| Specs | OnePlus 3 | Samsung Galaxy S7 |
| Dimensions | 152.7 x 74.7 x 7.4 mm | 142.4 x 69.6 x 7.9 mm |
| Weight | 158 g | 152 g |
| Display | 5.5 inches | 5.1 inches |
| Resolution | 1080 x 1920 pixels (401 ppi pixel density) | 1440 x 2560 pixels (577 ppi pixel density) |
| Cameras | Front: 16 megapixels, f/2.0; Back: 8 megapixels, f/2.0 | Front: 12 megapixels, f/1.7; Back: 5 megapixels, f/1.7 |
| Software | Android 6.0.1 Marshmallow | Android 6.0 Marshmallow |
| Chipset | Qualcomm MSM8996 Snapdragon 820 | Qualcomm MSM8996 Snapdragon 820/Exynos 8890 Octa |
| CPU | Dual-core 2.15 GHz Kryo & dual-core 1.6 GHz Kryo | Dual-core 2.15 GHz Kryo & dual-core 1.6 GHz Kryo/Quad-core 2.3 GHz Mongoose + quad-core 1.6 GHz Cortex-A53 |
| GPU | Adreno 530 | Adreno 530 |
| RAM/ROM | 6 GB/64 GB | 4 GB/32-64 GB (expandable up to 256 GB) |
| Battery | 3000 mAh | 3000 mAh |
At first glance, OnePlus 3 narrowly beats the Samsung Galaxy S7 in terms of hardware components. As we will discuss below, the design offered by the Samsung Galaxy S7 is much more attractive, and, despite having a lower or similar numbers, the same thing goes for the camera, the screen quality and battery life. Samsung Galaxy S7 wins as to take greater advantage of its elements, but the OnePlus 3 costs much less than its opponent, and is a much smarter buy, if you think about it.
Design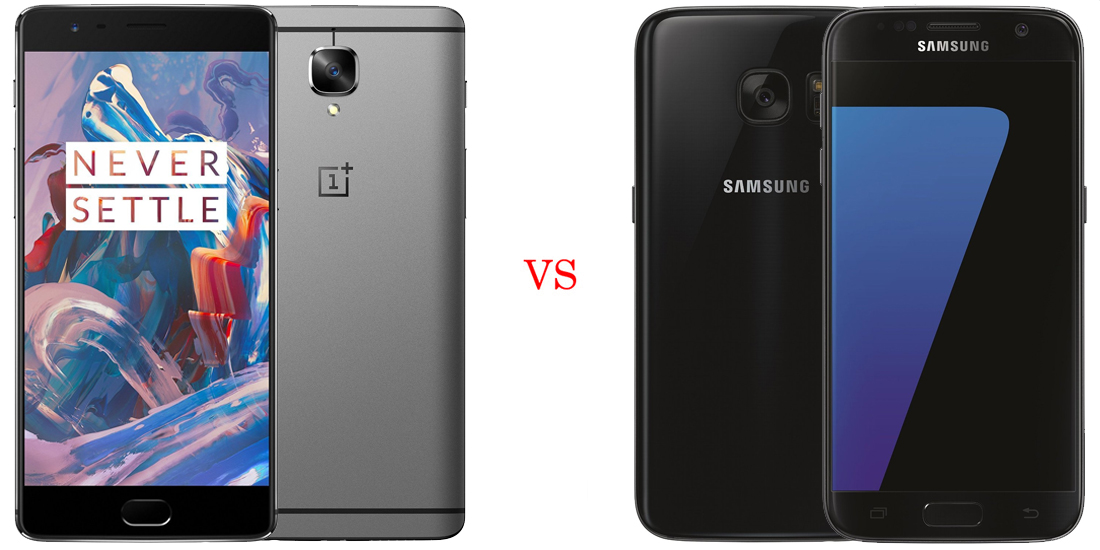 OnePlus 3 body is made entirely of metal, and this is the first time it happens in regard to Chinese manufacturer since previous smartphones of the company were made of glass and metal or metal and polycarbonate. The build quality is top notch, thanks to what looks like a very robust and durable construction. In appearance reminds somehow HTC devices.
Samsung Galaxy S7 design focuses on elegance, following the line of predecessor Galaxy S6, but improved compared to the latter. The rear frame is made of glass, while the frame is made of metal. There is also a curved back for easy grip of the device. And it comes with IP68 certification that makes it resistant to water and dust. Being waterproof, this phone can be submerged in water for 30 minutes, and up to one meter deep. As for the design, as we move forward, the victory is for the Samsung Galaxy S7.
Display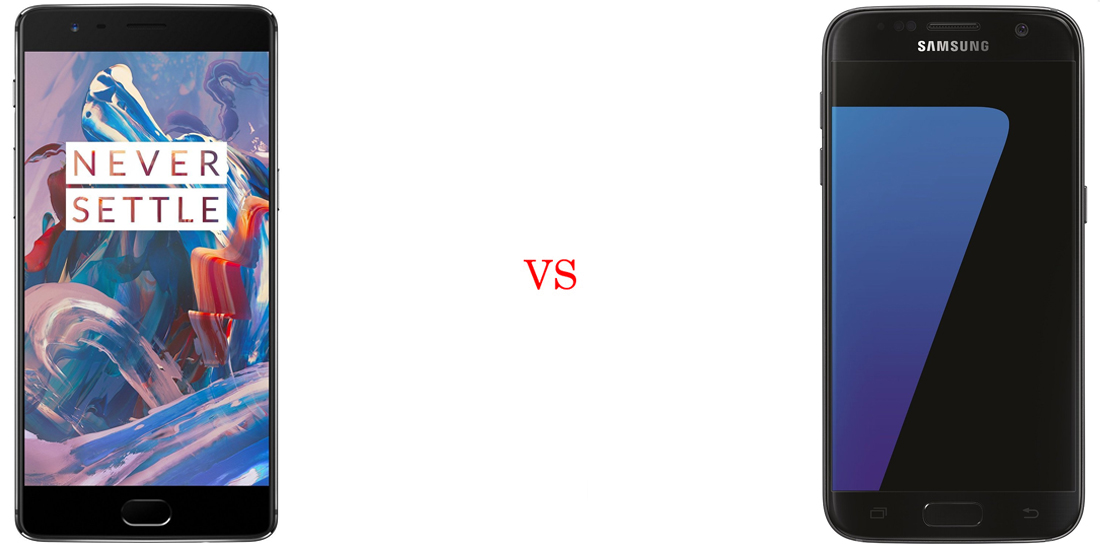 The OnePlus 3 has a 5.5 inch screen with a Full HD resolution of 1080 x 1920 pixels. The technology used is none other than AMOLED (by Samsung), and displays images with good color and brightness, which can also be adjusted automatically according to user needs.
The Samsung Galaxy S7 has a 5.2 inch screen, which has the Super AMOLED technology patented by the Korean manufacturer itself, and displays images at Quad HD resolution of 1440 x 2560 pixels. The colors are very bright and its definition becomes so perfect that it can even intimidate and seem exaggerated.
Both devices have the "Always-on" mode, which allows you to know the weather, time and notifications with the screen off. Despite the larger screen of the OnePlus 3, the resolution and the quality difference does that in this case we also prefer the Samsung Galaxy S7.
Camera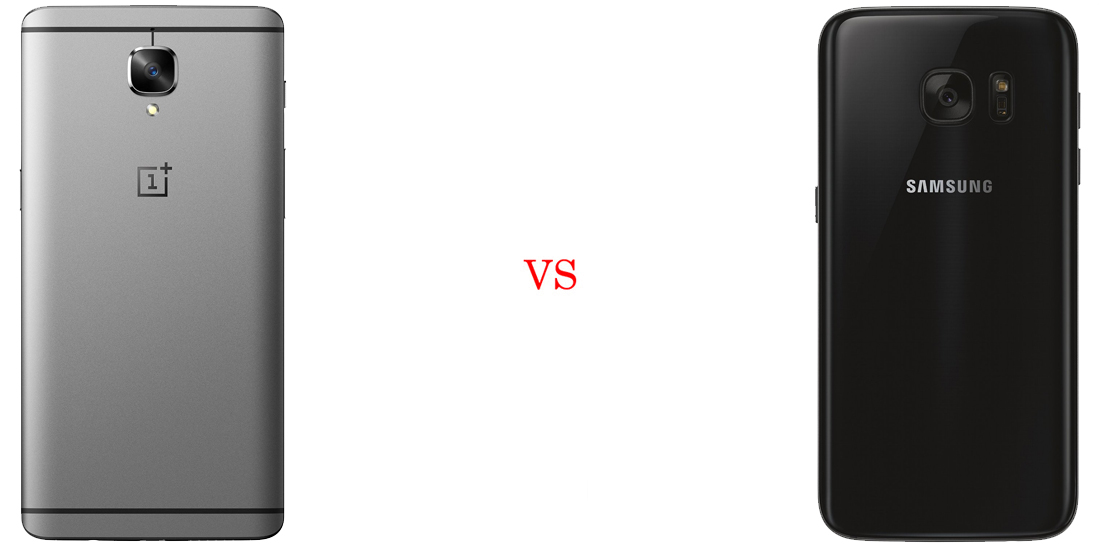 The main camera of OnePlus 3 has a resolution of 16 megapixels and offers a spectacular performance. The focus and the pictures are of an extremely fast mode, and image definition is high, and with very real colors. It is possible to take professional photos in RAW format, while videos can be recorded at 4K resolution. Even in low light conditions the camera makes an incredibly positive work.
The Samsung Galaxy S7 has a goal away from the resolution, only 12 megapixels, but as connoisseurs you must know, less megapixels does not translate into less quality. In this case, the pixels of the camera are larger than normal and can capture a huge amount of light. This results in amazing pictures even in low light conditions without flash LED. It is also amazing the detail that can be captured. Although we are very close to a draw in this case, the truth is that the camera of Samsung Galaxy S7 risks and win.
Software/Hardware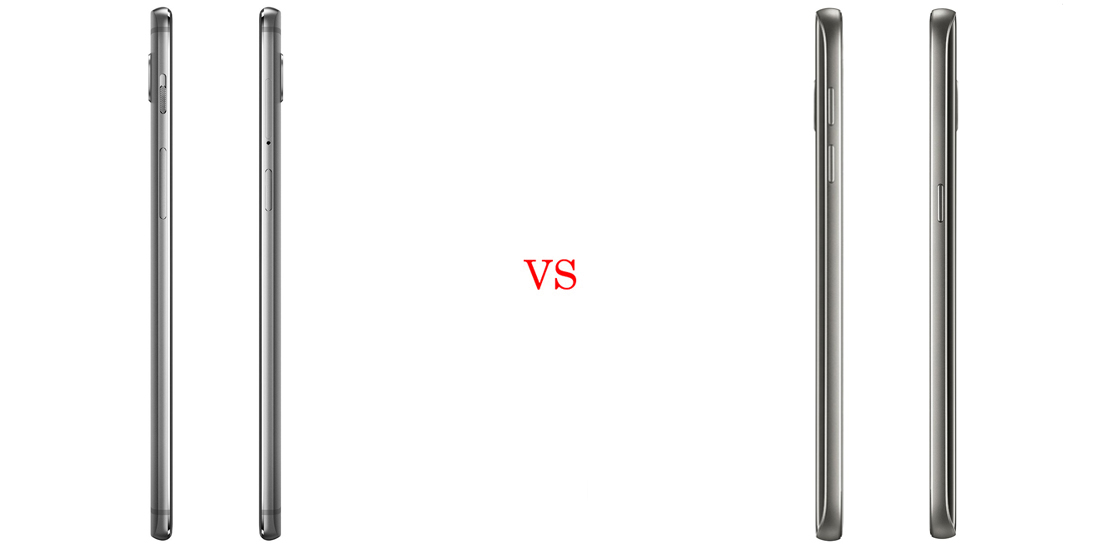 The OnePlus 3 has underhood a quad-core processor Snapdragon 820 operating at a frequency of 2.2 GHz; this is the flagship model of Qualcomm. The processor is accompanied by the spectacular amount of 6 GB of RAM and 64 GB of internal storage, and overall performance could be defined as pure power. You can entrust multitask, but never creates problems in this regard, and the interface is smooth and responsive (OxygenOS based on Android 6.0.1 Marshmallow).
Meanwhile, the Samsung Galaxy S7 features the same processor in the US, but in Europe has the Exynos 8890 eight-core processor at 2.3 GHz, 4 GB of RAM and 64 GB of internal storage. Again, the overall performance is equivalent to an excellent fluidity and responsiveness, even though the TouchWiz interface is slightly heavy. However, despite what the numbers indicate, we believe the OnePlus 3 is able to handle RAM better than its rival, so we prefer the Chinese smartphone in this section.
Battery Life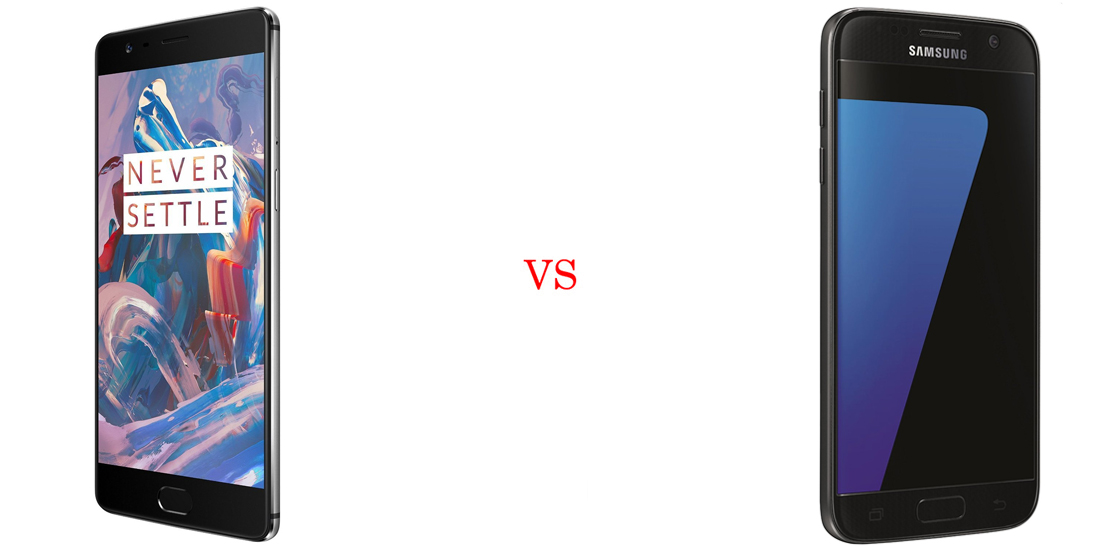 The OnePlus 3 has a battery with a capacity of 3000 mAh. If we focus on a scale with all possible battery lifes, we would conclude that this device stands slightly above average. Lets talk for 33 hours, When web browsing allows use of more than 8 hours, while exceeds 13 hours of video playback.
The Samsung Galaxy S7 also features a 3000 mAh battery. However, this device is able to manage battery life much better thanks to a great optimization performed by Samsung. As for talk time, it will reach almost 23 hours. In terms of web browsing, arrives at 9 hours and a half, while can get to 15 hours of video playback. Thus, in this last section, Samsung again prevails.
OnePlus 3 versus Samsung Galaxy S7 (Comparative)