Google's event gives a lot to talk about, in fact we believed the two terminals were almost entirely leaked in that sense, no surprise. But now it's time to take a step back, and coldly evaluate the data and specifications we have before us. In this article we will put face to face the two new members of the Nexus family, on the one hand, the most compact of the two rivals, the Nexus 5X, true successor to the Nexus 5; and on the other hand, Nexus 6P.
Design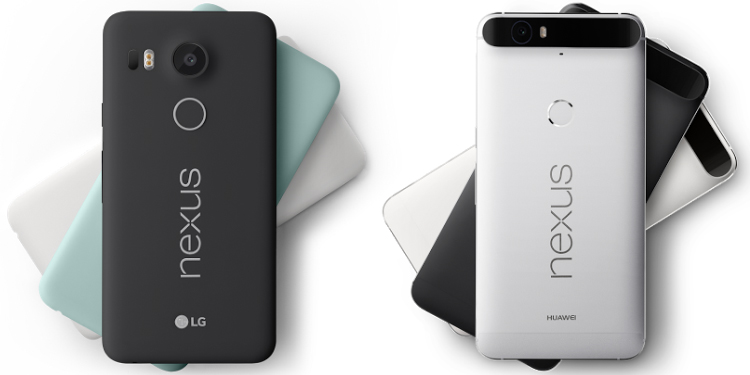 Just taking a look at the new Nexus 5X we know that Google and LG are behind. There is a sense of nostalgia because it really feels very similar to the Nexus 5 (2013). The polycarbonate is finished with a rubbery feel. However, the new smartphone is much larger, although this does not mean that it is not quite manageable even with one hand, because it is. Also, the Nexus 5X cannot boast of being one of those smartphones that LG reduced the edge to a minimum as the G2 or G3. The manufacturer could have been a bit more careful on the side edges, which are quite large. Likewise, if they had cut a bit of the upper and lower edges, this would be a much elegant of what finally was presented. It measures 147 x 72.6 x 7.9 mm and weighs 136 g.
The Nexus 6P is distinguished not only by size, but because for being the first time a Nexus is using a full metal body. With a size of 159.4 x 77.8 x 7.3 mm, the phablet comes wrapped in aluminum to give a premium finish.
It is true that opting for a Nexus 5X before Nexus 6P may sound crazy because we have fewer benefits in terms of design, some inferior materials and other aspects are inferior. But for a person who is looking for a compact device, the Nexus experience that Google offers in both terminal is perfect. If they have chosen materials such as aluminum or glass surely it would have increased the weight and would not be against such a lightweight device. The premium polycarbonate ensure that younger users join the Google Nexus 5X seeking to give a good feeling and reduce its overall weight.
Display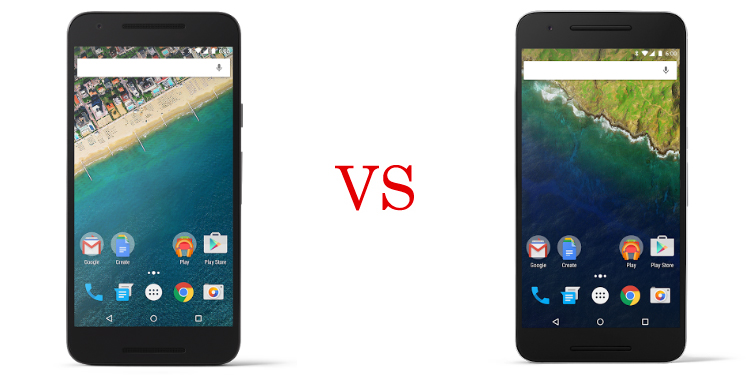 Perhaps the most obvious physical difference is the size. We face two displays of different size, 5.2 inches for Nexus 5X and 5.7 for the Nexus 6P. Matter of taste as long as we talk about size difference, but for those who take it as reference the differences between the original Nexus 5 and Nexus 6, note that were 5 and 6 inch respectively, half-inch difference between the new terminals presented. And the difference is noticeable both in the amount of content to be displayed in the terminals as the time to get better handling.
In this sense, considering that both resolutions are very good and will not appreciate changes at first glance, if you try a pair of terminals of similar size and prove the feel and the way you adapt to these sizes, you will see. If you think that a larger size will not be really uncomfortable, so do not hesitate to go to Nexus 6P if you like the other features, but the Nexus 5X be a better partner.
Cameras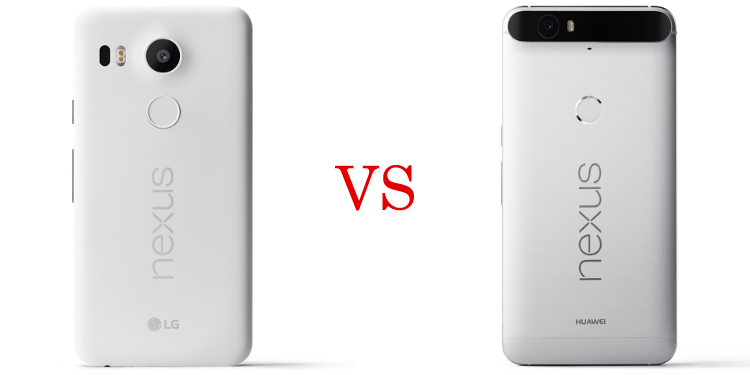 A main camera of 12.3 megapixels for both terminals that are intended to be top on the market today. Okay, we are used to moving in figures above 16 megapixels to consider a top-end smartphone. And it is true in part that higher resolution can improve the sharpness of the different scenes and allows us to zoom in without losing image quality, but is equally true that if a sensor does not capture enough light, all that resolution can be missed literally.
And we see Google has chosen to target their strategy towards a similar way to Apple, less megapixels but betting on other equally important or even more than the resolution level factors. We met a Sony sensor with a number of correct resolution, but with little surprise, is that the pixels of the sensor are considerably larger than the average size, 1.55μm pixel. This is intended to achieve greater light reception (90% more efficiency in receiving light that the Nexus 6, for example) for a similar amount of pixels to another terminal of 12.3 megapixels.
Google wanted to show what differences we see with other high-end devices, showing pictures where in adverse lighting conditions (indoors, dark areas, sunsets) the sensor captures more light because of the size of these pixels. We understand that if this sensor made by Sony improves noticeably the light, so it is possible to use effectively 12.3 megapixels, which can translate into sharper images thanks to the photons that are emitted from the different scenes captured by larger pixels. We have to take into account factors such as lens or image processing to make Android 6.0 Marshmallow also be very important in the final result, but the basis of a photograph in these Nexus 5X and Nexus 6P looks pretty good.
We also have a laser sensor to allow autofocus that allows us to shot pictures more quickly and effectively when focusing. Ultimately, what it comes to video recording, sensor of these cameras allow you to record in 4K. In addition both come with the ability to capture within the app of the Nexus videos in slow motion or slow motion camera through the video recording at 120 fps (Nexus 5X) and 240 fps (Nexus 6P). It is here where we find the only difference between the two cameras as in other characteristics are virtually identical in every way.
Software/Hardware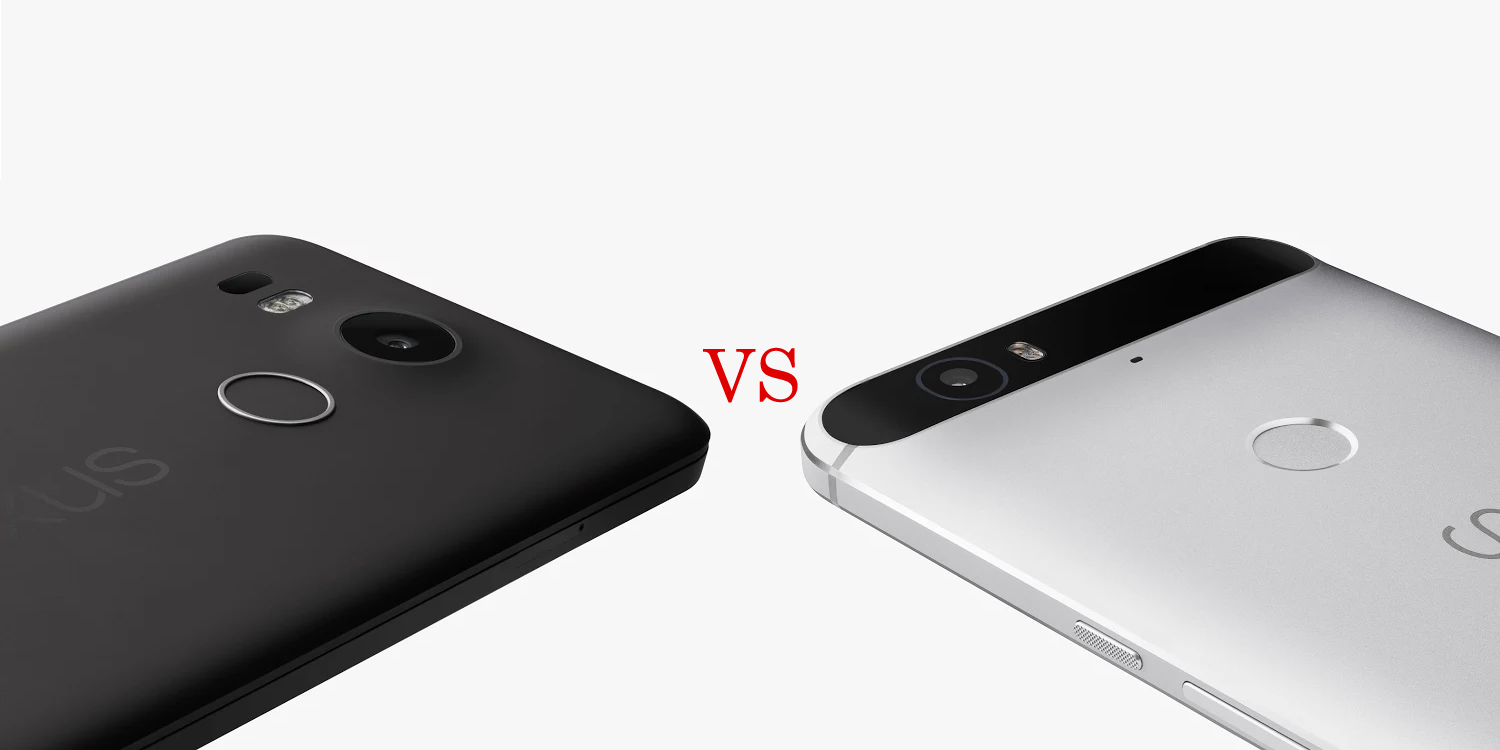 We see that the Snapdragon processor model is lower in Nexus 5X, where we have the Snapdragon 808 but not bad you're not going to consume games regularly, because these benefits on paper point to an incredible performance. A larger screen with QuadHD is a reality that needs a better processor to manage quality and energy consumption but if we are with a FullHD display and 5.2 inches, a Snapdragon 808 will not give us bad results, quite the contrary. For example, the LG G4 is featuring the Snapdragon 808 and the experience is satisfactory. In other termes, this Nexus 5 is a potentiated devices comparing with with the same RAM and the same storage Google left in the first Nexus 5 (2 GB RAM LPDDR3 and up to 16/32 GB internal storage eMMC 5.1).
To take on the most demanding tasks, Google and Huawei have opted for the Snapdragon 810, which comes with eight cores, of which four are Cortex-A53 at 1.5 GHz and four are Cortex-A57 at 2.0 GHz, and Adreno 420 GPU. In matters of RAM, it includes 3 GB of storage accompanied by 32/64 GB LPDDR4 of RAM and, for the first time, 128 GB, to have all the space we need, although it is clear that as said, a microSD port is not included.
Autonomy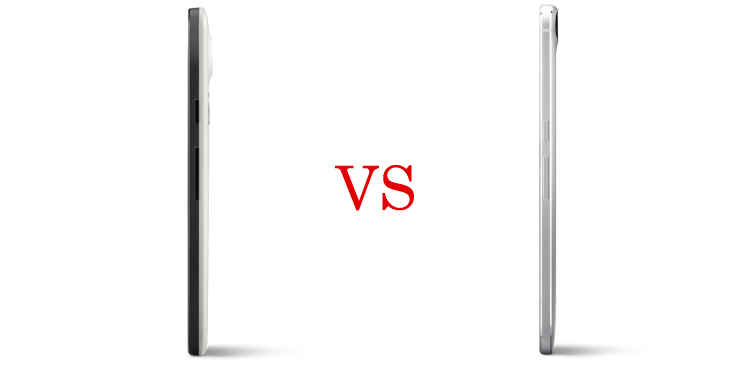 Having a smaller screen and lower resolution also reduces power consumption. Therefore, the 2700 mAh capacity battery of Nexus 5X may be the final solution to the Nexus 5. It is difficult to assess two sections as performance both in terms of fluidity and operation of the system and the autonomy of their batteries. However, the biggest difference we will see in the batteries, although the screen resolution and processor power and RAM make the overall consumption of Nexus 6P exceeding consumption of Nexus 5X, so even though Nexus 6P is consuming more it also looks balanced with higher capacity (700 mAh), which should grant a priori higher autonomy than the Nexus 5X at similar performance, although the differences, regardless of the degree of optimization that Google has managed to hand LG and Huawei, can become slim.
Nexus 5X versus Nexus 6P