Sony has not released exact details on dates about updates to Android 7.0 Nougat in its range of Xperia smartphones. However, some rumors and speculations show what should be the roadmap for the release of the update to the latest version of the operating system in several models of high, medium-high and mid-range. Here, therefore, it's what should be planned for latest versions of Sony Xperia almost ready to receive Android Nougat.
As reported by Xperia Blog should be given four cycles of updates for this version on different smartphones Sony Xperia as follows: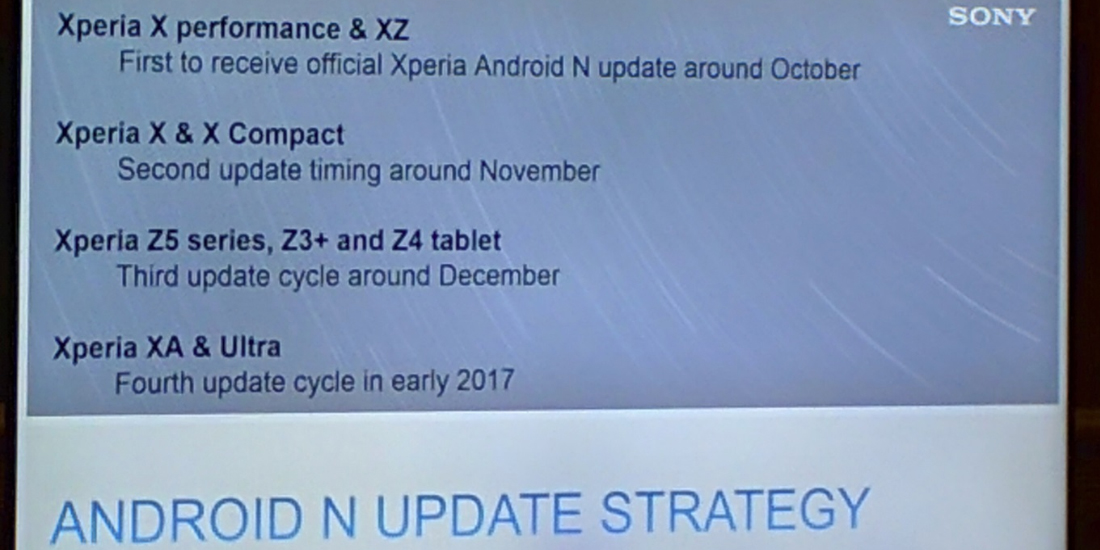 In the first phase would be two high-end smartphones that will receive Android 7.0 Nougat. Sony X Performance and Sony Xperia XZ, they should receive the update at the end of October 2016. Then, in the second round, Sony Xperia X and Sony Xperia X Compact, which should be updated to new version of the operating system in late November 2016. Third, it would be the turn of the Xperia Z5 series, Xperia Z3+ and Z4 Tablet, which receive the update in December 2016. The latest Sony Xperia smartphones to receive the update to Android 7.0 Nougat would be the Xperia XA and Xperia XA Ultra, which will have to wait until January 2017.
Clearly, being unofficial data, this information may differ, as has happened in the past, and not be surprised to see that everything changed and all updates come a few weeks or months later. In fact, Sony seems to have taken the precaution of time to try the new operating system with a public beta on some devices, months before the release of the stable version.
In fact, since Sept. 23, registration for Android Nougat beta test is open to owners of an Xperia X Performance, and registrations are open to users of selected countries. These countries are: Spain, Sweden, Norway, Finland, Denmark, Lithuania, Estonia, Latvia, Iceland, Italy, Portugal and the Netherlands. Of course, in countries where registration is open, only a limited number of users can take part in the Xperia Beta program, so should be proposed as candidates as soon as possible.
Before enrolling in the program, however, remember that the software that you will receive from Sony, if accepted, will be a beta firmware, so it is sure there will be some errors and slowdowns on the phone, it locks or that the device is restarted. All these problems should be reported to Sony, that they may well be correct. This is, after all, the purpose of the program.
Sony Mobile shows roadmap for Android 7.0 Nougat