Remember the last time you saw a mobile phone with shell? This happened with the first StarTAC, which inaugurated the beginning of a new era of communication, with the advent of QWERTY keyboards that could be seen only by opening and closing the lid, and now almost disappeared completely from the market (except perhaps for some exceptions in Asia). Samsung, however, wants to revive the format proposing a phone with features for nostalgics: the Samsung Veyron (SM-W2017). Here we show the first real images of this device, after numerous projects and rumors made in recent months. These images reveal a smartphone with two screens, one for each side of the top cover, so you can have everything at hand without opening the keyboard.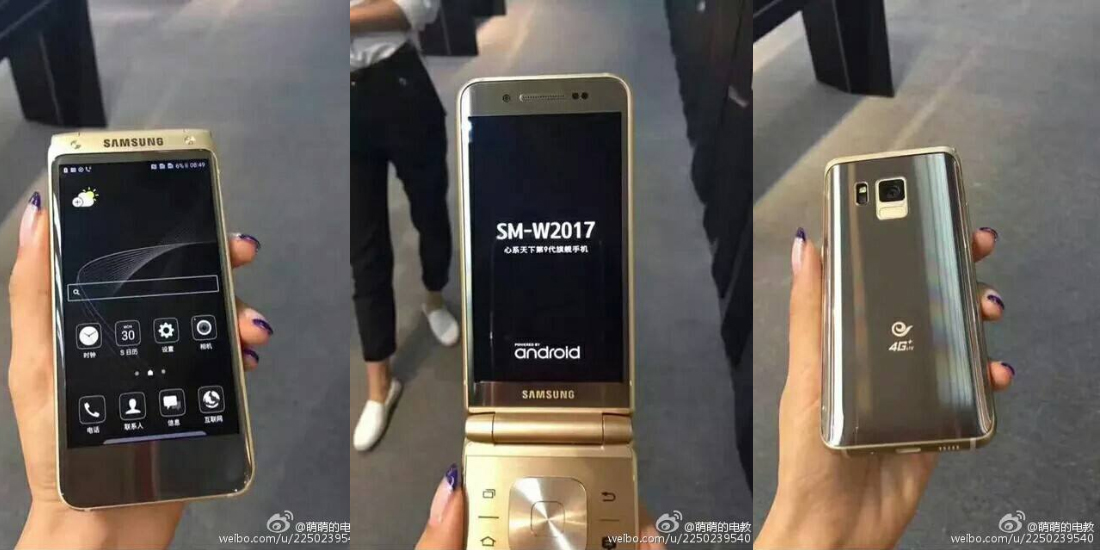 The Korean manufacturer right now ranking first in the world of smartphones, will officially release this smartphone with features of high-end devices, comparable to the specifications of Samsung Galaxy S7. As we said, the Samsung Veyron will have two screens: the outside can be controlled as a touch screen when the device is closed, while the inside screen will have a screen of the same size that can be used even with a physical keyboard, like the old phones with smaller screen. An appropriate model following the nostalgic trend spread at least over the internet. At the same time, one could say that Samsung does not want to sacrifice the user experience and the characteristics of the latest models.
Taking a look at the photos of the smartphone, the feeling that the cover design consists of glass materials at the rear and metal for the frame at the front. The Samsung Veyron SM-W2017, according to rumors, should have two 4.2-inch screen with Super AMOLED technology. Inside should have a Qualcomm Snapdragon 820 quad-core processor (minimum), 4 GB of RAM and 64 GB of internal storage. The front and rear cameras would have a resolution of 12 and 5 megapixels, respectively.
Samsung Veyron SM-W2017, high-end smartphone with rear shell