The revelations made by Geekbench confirm that Samsung has begun testing the new Samsung Galaxy Note 7 with the Developer Preview version of Google Android 7.0 Nougat. This means that the next high-end device by Samsung can arrives in the shops with Nougat installed as standard, but it depends on when Google completes the development of the operating system or, in the worst case, other smartphones receive it as a software update weeks immediately after its official release.
The SM-N930F code appears in Geekbench and belongs to the Galaxy Note 7, but the strange thing is that the tests reveal the presence of an Exynos 7420 processor with only 3 GB of RAM, a very different RAM compared with powerful specs initially expected, as are the Exynos 8893 with 6 GB of RAM. Samsung may be testing the integration of Android Nougat with one of the many examples of previous developer before it, in this case, and certainly one of the first to try it.
In addition, Samsung may have designed a new Gear VR viewer for this Galaxy Note 7. In fact, according to some reports leaked in Asia, has made its appearance in an Indian supplier list named Zauba with new Samsung accessories without precedents for virtual reality. The need to create a new Gear VR specifically for the Galaxy Note 7 requires the viewer to adapt to certain specific technical characteristics of the new Korean phablet.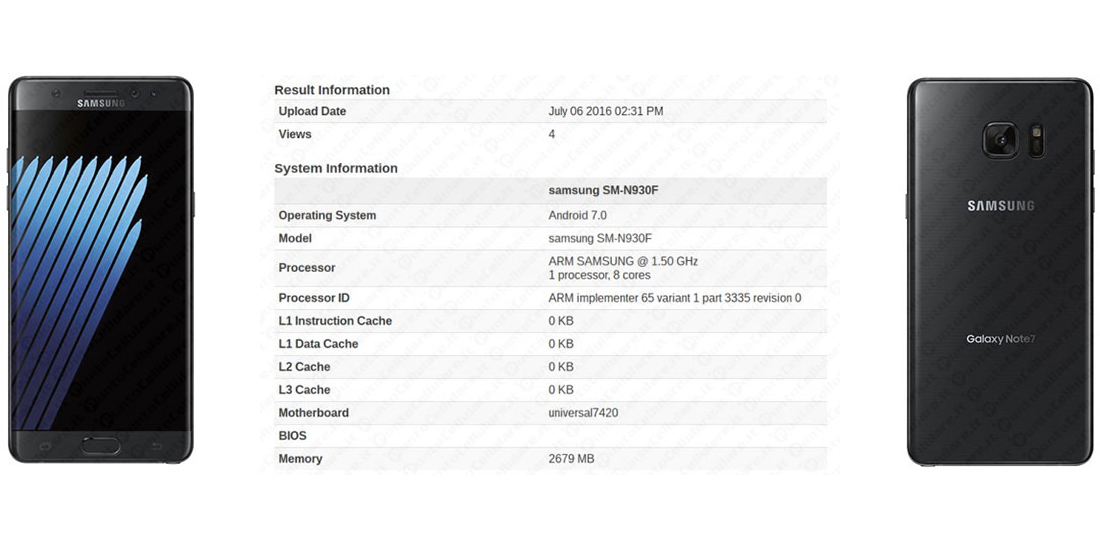 The new Samsung Galaxy Note 7 also count, in fact, with a USB Type C port that would be incompatible with current virtual reality viewers. Therefore, if these specifications are confirmed, in order to offer a new virtual reality experience fir its new phablet, the Korean company will be forced to create a new specific Gear VR. The code for this new product (virtual reality glasses) would be SM-R321. By way of comparison, the Gear VR code for the Samsung Galaxy S7 was the model SM-R322.
Obviously, most of these news will be announced during the presentation of the new oversized smartphone, it will happen in about a month. It is also difficult to say whether this viewer will be a brand new product and also whether it will be compatible with other devices, or only a specific version adapted to this Korean Android smartphone. Prices should be similar to the current model and, therefore, the virtual reality extension would cost 100 or 129 euros.
Samsung Galaxy Note 7 starts testing Android 7.0 Nougat