Google has recently returned to take stock of its Project Abacus, first announced in the Google I/O 2015, and thanks to which, in the future, the user name and password to unlock the device and access any application on Android can be completely superfluous. These elements may be replaced by a more practical system based on monitoring access of a number of parameters that identify the user uniquely. A technology that, on paper, could even replace security systems based on two factors (eg numeric code sent via SMS or email) and, therefore, may be applicable to applications dedicated to the management activities where security is particularly acute (think of applications in banking and financial services, for example).
Project Abacus associates unlocking the smartphone and sign up a check called "Trust score", a global marker is determined using a variety of factors: writing schemes generally used by the user, or the detected location to reach other biometric parameters, such as diagrams that plotted the speed and tone of voice or algorithms for face recognition. Security systems based on individual factors are not unusual (Google, for example, has already launched the function of "Smart Lock" that provides automatic release of the device when it is in a considered safe place or it is connected to a Bluetooth device considered reliable), but it may be unusual combination of several factors, carried out constantly monitoring to detect using integrated sensors on smartphones and thus determining the overall Trust score.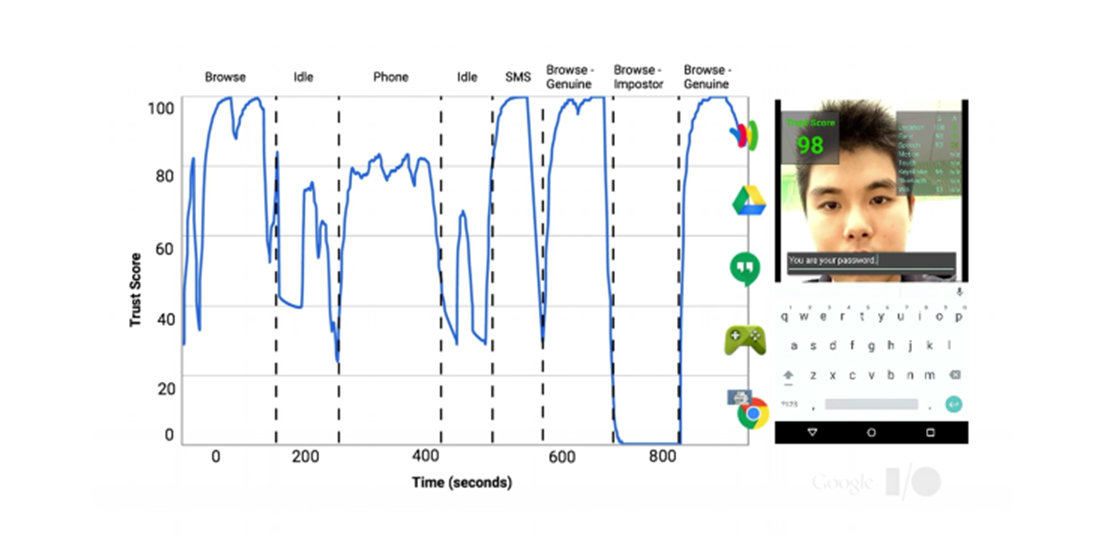 The Trust score essentially expresses a numerical score that says if the system is secure in the event that the user who accesses is indeed who he claims to be. One of the interesting aspects concerns the possibility of providing "Trust score," higher or lower to access different types of applications: for example, an application for the use of banking services may require greater Trust score compared to required by a game. The last stage of Project Abacus involves the creation of a "Trust API" that in the future, will be complemented by application developers for Android. Before reaching this goal, in any case, it will have to complete additional tests to be carried out in collaboration with several major financial institutions since June.
If the test phase has a positive result, the Trust API could be available later this year for all Android developers interested, as confirmed by Dan Kaufman, head of the ATAP Division (Advanced Technologies and Projects) of Google, who has carried forward the development of this Project Abacus. An interesting project, not only because it makes easier access to smartphone (although, in this sense, may be sufficient with fingerprint sensor, which is widespread), but also because it introduces an additional layer of security at applications. For example, developers can integrate the Trust API to block access to the content of each application in the presence of an unauthorized access to the smartphone.
Project Abacus, or the future of Android without passwords in apps