During the last hours we have known through the benchmark database of GFXBench, new rumors about the highly anticipated Nokia D1C, one of the three Android devices made by Nokia which will hit mobile stores between the end of the year and the first months of 2017. We all know that Nokia has not gone through a good period lately but now intends to try it again within this recovery plan that includes Nokia P1 and P1 Plus.
The Nokia D1C seems to be a tablet with excellent potential. After the Finnish company sold its entire hardware division to Microsoft, making one of the most flagrant errors known in the market, it put on sale two tablets, Lumia 2520 and Nokia N1. Both devices, however, did not enjoy much luck in a still very small market (in fact the second device was launched only in China).
According to the GFXBench platform, the Nokia D1C is a tablet with a big screen, 13.8-inch diagonal, which displays images with Full HD resolution of 1080 x 1920 pixels. In addition, it is expected to connect via Wi-Fi or via mobile network having an integrated SIM module. Nokia D1C would not be indeed a smartphone, as expected at first, but a tablet. An important novelty, especially considering the recent purchase by Foxconn, whose strategy remains to be seen.
Nokia's return is attracting much interest among Finnish brand enthusiasts who expect a return to how big it will serve to regain ground in the market. The Finnish brand ensure the production and sale of a portfolio of Android smartphones and tablets with its name, although the final production remains to be seen. So far we know of two other devices in development, and in theory the Nokia D1C belonged to the entry-level category.
To date, we know that HMD Global has accepted a conditional agreement with Microsoft regarding the right to use the name of Nokia on its phones, along with other rights related to the design of its devices.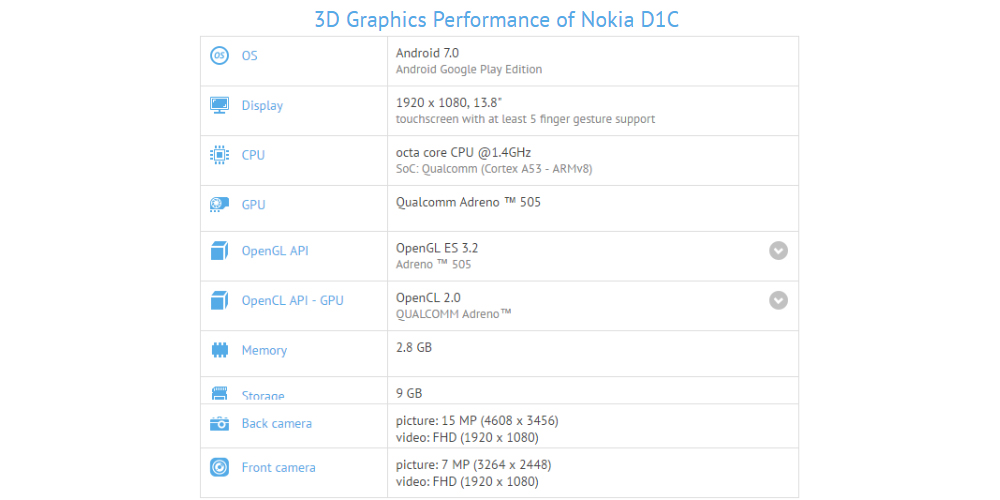 Nokia D1C is a mega tablet according to GFXBench