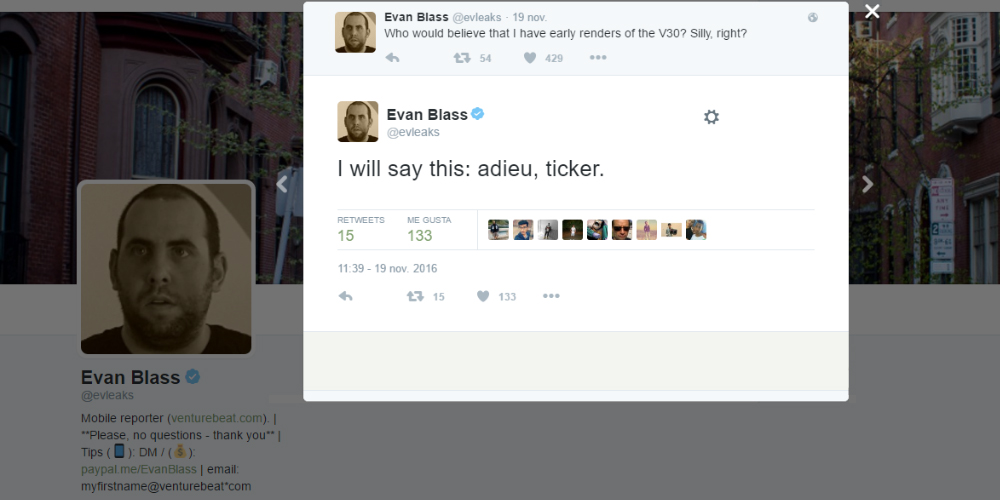 The V series created in the latest generation of LG's Android smartphones combines aesthetics and functionality to excellent quality and offering unparalleled image quality. This can be checked with the LG V20, clear successor of the LG V10, praised by its dual camera and a high quality dual display. Well, the LG V30, next device of the series, has happened in the last hours under the watchful eye of leaker Evan Blass (known in Twitter like EvLeaks). This cell phone represents the future of the Korean company's superior range, but probably the secondary screen will disappear, differing from its predecessor and thus disrupting a tradition already initiated by the first phone in the series.
Evan Blass gave the news using very few words: "I will say this: adieu, ticker,"(a term referring to the secondary display). The leaked element would advance the choice of LG on this matter, as this news not only represents a leak on the screen, but also tells us that the Korean company is already preparing a successor to the LG V20. It is probable that the secondary screen (which to date has allowed to start applications and to see notifications of the system without needing to turn on the main screen, with the expense of battery that it represents), is replaced by another function, of which, however, details have not been leaked. This leak may disappoint many LG followers, as the secondary screen is key at the top of the screen had been well received in the first generation of the V series.
But there is hope: LG will manufacture the next V30 within several months, because in reality the LG V20 is still fresh; this means that as a result of user feedback, LG may change its mind about a very important function for a good majority of users. The LG V20 was launched in the USA. A few weeks ago and is already collecting interesting numbers: 200,000 units sold since its official launch. It is a device with a less robust design than the LG V10, but has a large screen QHD of 5.7 inches, processor Snapdragon 820, 64 GB of flash memory, 4 GB of RAM and dual camera. Among the features that no one should miss, is the inclusion of Android 7.0 Nougat preinstalled on the device since the time of the announcement.
For now we wait confirmation of a possible change in the LG V30 screen, along with technical specifications that allow us to understand which device we are facing.
LG V30 can remove secondary display on Android smartphone