China's brand Huawei could have a surprise for women who take part in this year's IFA event held in early September in Berlin. According to rumors revealed by analyst Xiang Ligang on Weibo, the popular Asian social network, it is not limited to officially announce the smartphone GX9 (which yesterday was announced for the domestic market as Huawei G9 Plus) and 8 inch tablet MediaPad M3, but also It has a third device planned and devoted specifically to women.
Smartphones themselves have always been conceived as unisex devices. Since its release, the smartphone is presented as a tool for everyone, and only recently has begun to enhance the specificity of different phones through a specific choice of colors, starting with the pink shown for the first time by Apple.
But Huawei seems to break this habit and present what will be the first smartphone to all effects for women. The Chinese company, in fact, according to rumors, will present it in the coming weeks as "Huawei Nova" and the announcement will accompany the following words: the first smartphone dedicated exclusively to female consumers.
Little else is known about this product, beyond rumors, except that it must be made of metal in gold color. The picture published shows only the buttons for the volume on the right side of the smartphone and nothing else, so it is impossible to make any speculation about it. The news comes directly from Weibo, the popular Chinese social network, so the news has a certain reliability, but we never know. We will see whether it is a curiosity or if we could be facing a real trend in the market of smartphones and tablets.
The device, as mentioned before, will be presented in the coming weeks and, specifically, should see the light at the IFA 2016 in Berlin.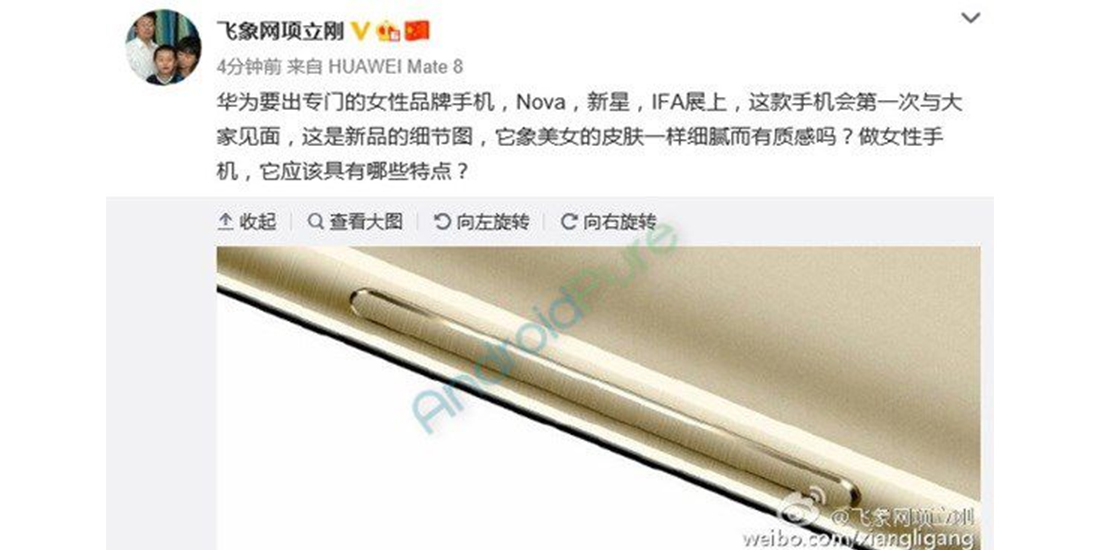 Huawei could release a smartphone designed especially for women