As many may know, Google has confirmed that the new version of Android will be called Android Nougat. The update should reach users later this year and, initially, the Nexus devices will be the first to receive it, as always. The question is: what other devices and what other brands will be able to upgrade to Android Nougat?
Waiting for all manufacturers to disclose this information in the coming weeks or months, HTC has provided this information and has confirmed that at least three of its smartphones will receive the new version of Android Nougat. The three devices in question are the HTC 10, HTC One M9 and HTC One A9. According to HTC, "Android Nougat, the new sweet by Google, Android will reach to HTC 10, HTC One M9 and HTC One A9".
Although for the moment other devices have not been announced, this does not mean that there will be upgraded anyway. It is possible that these confirmations are only the most obvious among HTC smartphones, as they are the most recent, and it is possible that the confirmation of the other's going to meet after waiting a while, which carries out the tests to its end.
Other manufacturers, as already mentioned, have not yet confirmed the update for their phones, but we can say with a good safety margin if you bought a smartphone put on sale this year, or if you have a high-end device like the LG G5 or Samsung Galaxy S7/ S7 Edge/Note 7 can expect to receive this update, sooner or later. However, to be sure of this, we still have to wait for other official announcements.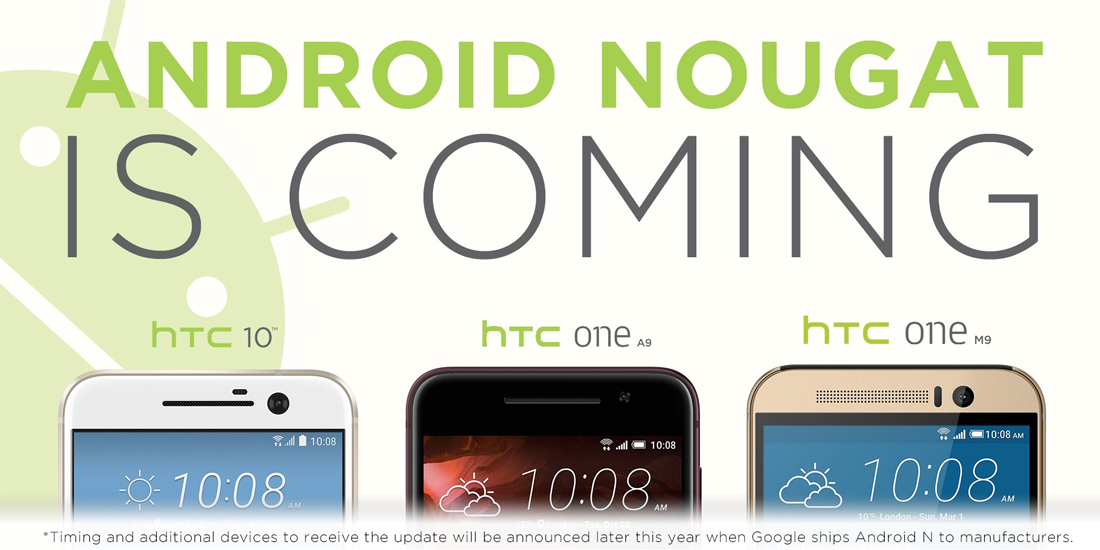 HTC announces smartphones upgradable to Android Nougat