A new feature very useful especially if you are one of those that you move by the big city. Because Google knows how easy it is to forget where we parked the car. Not surprisingly, from the outset there are applications for iPhone and Android that allow you to easily adjust the position of the vehicle on the map after parking (such as Find My Car), and iOS 10 there is also the Apple Maps application, which does it automatically.
And to all of them now we must add Google Maps. Users who prefer the Google Maps service will be happy to know that this feature is finally available. The function had already been implemented in an earlier update of the application, but, as pointed out by Engadget, only now has been activated. Hence the real possibility of taking advantage of it.
As for running on Android, it's simple. After parking the car, just click on the blue point and select "Save parking location". In this way, you add your position and open a special form in which you can add additional information, including a reminder to pay the parking meter, add a photograph of the parked car, share the car's location with other users or add notes about parking.
For iOS the system is the same, but if the iPhone is connected to the car via Bluetooth or USB, the application is able to exploit the same function used by Apple Maps and therefore allows to automatically label the location of the car when the phone is disconnect from the vehicle.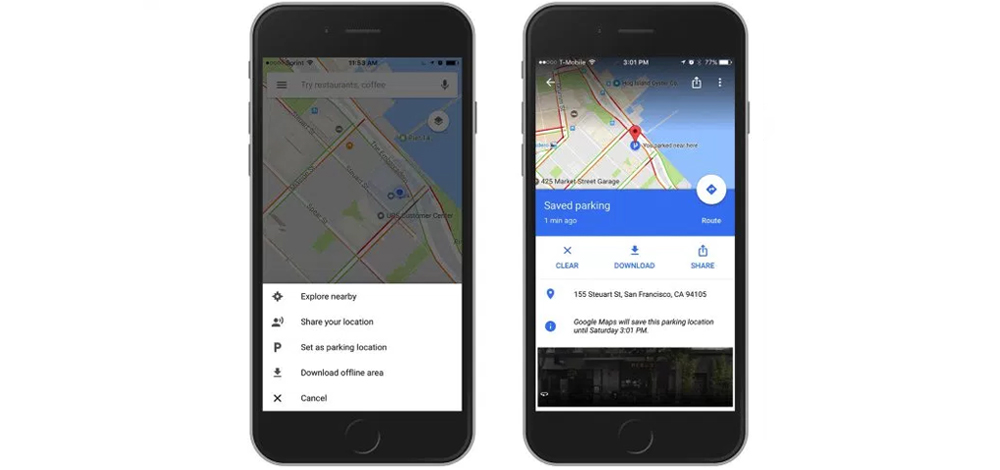 Availability of Google Maps for iOS and Android
The news of the deployment of a new version of Google Maps for iOS and Android comes directly from India. To the above, we must also add new details. It now has a Home screen that loads faster and has new shortcuts for quick navigation. This new Home screen provides less information than the version we know of and focuses on the actions you can perform with one touch. This new version of Google Maps will be available soon for all devices.