Google is updating most of its mobile apps these days. One of them, Gmail for Android smartphones, will be integrated today with Google Wallet, but currently only in the United States and the UK. This update features the introduction of a previously unique web client function. The integration with Wallet means that from now on British and US users will be able to send and receive money directly from their Gmail account, by sending a simple email.
How to send money with Gmail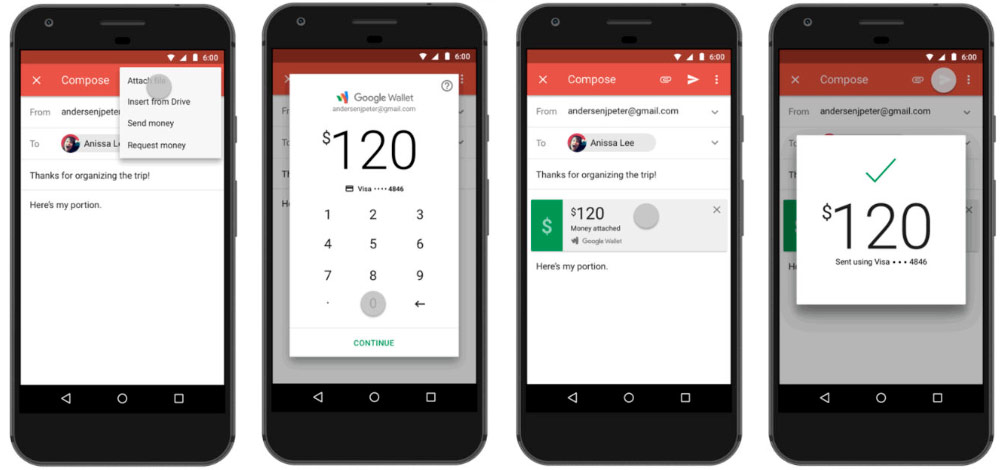 The process for receiving and sending money through our email account is extremely simple. But let's start from the beginning. First, you must create an email (by clicking on the Compose button, of course). Click the ellipses in the top corner. Click the Send money option. Next will be shown a kind of calculator with a symbol in the form of dollar or pound sterling. Choose whether you want to make a donation or a request, enter the amount and attach the transaction to the email. In summary, in order to send money through the Gmail application, simply click on the Attach button, as you would to send a normal photo, a video or any document.
On the other hand, it is not necessary to have a Gmail email address to receive a payment. These can be posted directly to the personal bank account, once it has been received via external email. The sending of the payments, that yes, does not contemplate the cost of the transaction. From now on you can send money as many times as you wish, without any numerical limitation, and there will be no fee charged by Google to the user, after making use of this online service.