When it landed on this platform, the Apple app was in the sights of Android users, who gave low scores and ironic comments that criticized its operation. Since then, Apple Music has been updated over time and managed to eliminate errors, to perfect graphics and also offer Android users a pleasant and immediate experience. A trend that seems to consolidate even more today. Since a few hours ago a new major update of Apple Music is available and brings version 2.0 to the Google platform.
A total change of the graphical interface and a significant improvement in the experience of use and speed. The new Apple Music 2.0 for Android has just been updated and comes with many important news. The first of all relates to the graphical interface, which turns the appearance of the Android version into something quite similar to iOS. The application contains the characteristics of texts and a new hub for the Library. The update makes it a giant step forward, moving from version 1.2.1 to 2.0, developed based on the iOS 10 experience itself.
In this way, Apple has decided to introduce in Android the same clarity and simplicity inserted with the last major iOS update, which simplifies Apple Music in four main categories. Playlists have been included within the Library, while the New Music section is now in Browse. Apple says it will now be easier to find the music downloaded to the device, ready for offline playback.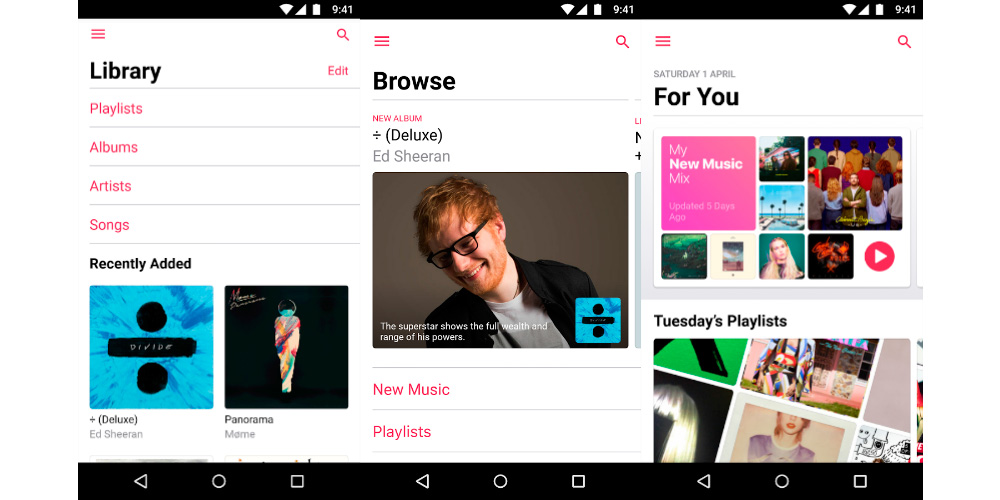 The version of Apple Music 2.0 is already available in the Play Store, where you can read the official change log shown below:
Explore millions of songs in the vast catalog of Apple Music.
Add to your Library and download your favorite music to listen offline.
Explore thousands of lists divided by genre or activity, carefully selected by music experts.
Get recommendations for playlists and custom albums based on the music you like.
Tune in to dozens of radio stations, for all tastes and unlimited song jumps.
Listen to the best artists and DJs in the world in Beats 1, live or on demand.
The availability of tracks and content may vary by country.
Membership is automatically renewed once the trial period has elapsed.