Android VR has appeared on the Google Play Developer Console. After recent rumors affirming Android VR would have a presentation during the next Google I/O, the company has dropped a new clue. The new icon in the "pricing & distribution" menu of the console for developers of Google Play leaves no doubt. However, while the icon name is explicit ( "Android VR"), the icon remains still a mystery; in fact, by the time the same icon appears in the Android Wear.
Unlike the other elements of the list, by clicking on the icon nothing happens, so it appears to be just a "placeholder" to increase the desire to await the Google I/O to be held from May 18 2016 to 20. To confirm this theory there is the official program of the Google I/O that provides numerous hours dedicated to virtual reality sessions. Moreover, according to other unconfirmed rumors, Android VR could be announced next week. To all this, add other statements in this regard to ensure that the virtual reality of Google will be less potent than other VR more familiar to users, as Oculus Rift and HTC Vive.
In recent weeks there have been many indications, even from official sources, that would show that the subject of virtual reality would be a major deal in this event dedicated to developers and held by Google annually. Nevertheless, there are no direct references to Android VR between all schedules related to virtual reality, but in fact there are several sessions devoted to it.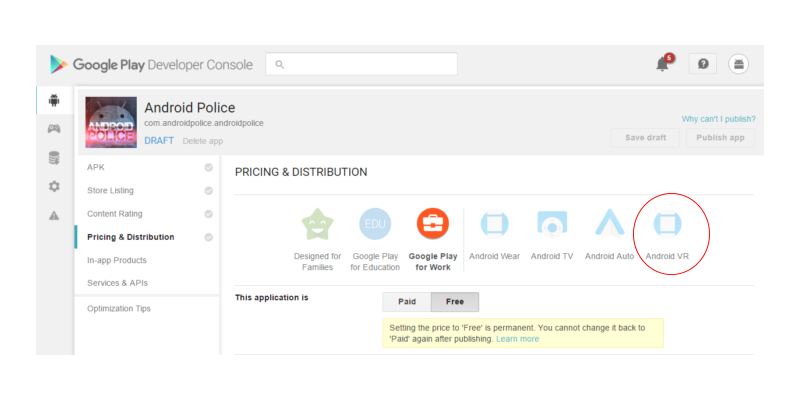 The Android VR marks the true beginning of Google to enter a more mature phase of the business of Virtual Reality, after the first attempts with low cost cardboard glasses. According to this new evidence, Android VR will be a real platform dedicated to virtual reality, or rather, a version of Android operating system optimized to handle the VR glasses, as Android Wear works for smartwatches, Android TV for smart TVs and Android Auto for vehicles, and thus are related to portable devices, television and information systems and entertainment worldwide.
As reported by The Wall Street Journal in February, Google could present a new Virtual Reality glasses, more sophisticated than the cardboard presented in the past, independent of the PC and the smartphone. A product that could act as a showcase to highlight the potential of the new platform Android VR. To know everything in detail and as an official Google project in principle we just have to wait at the start of the conferences of the Google I/O at 18 May.
Android VR is almost official and confirmed by Google Play