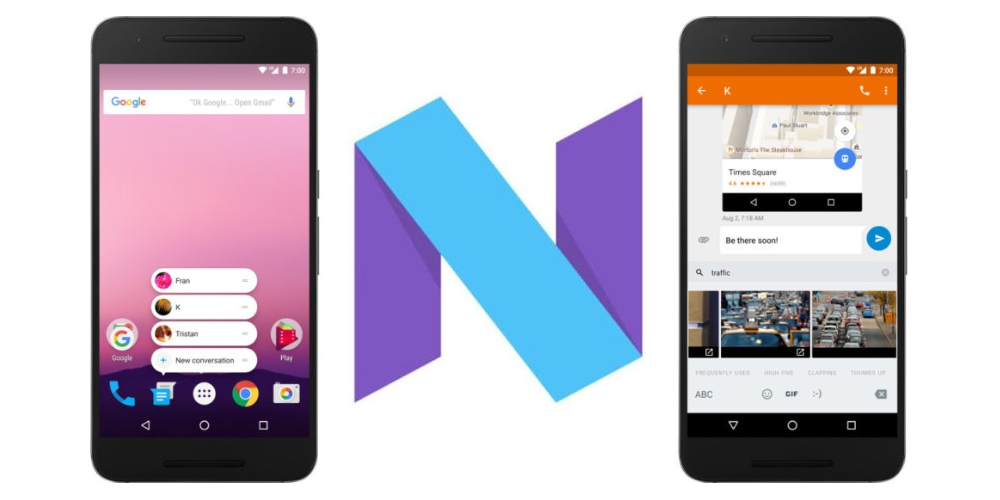 Google released the second Developer Preview of Android 7.1.1 Nougat for the Nexus 5X, 6P, 9 WiFi and LTE and Pixel C. The innovations introduced with this update are not enough to modify the version number, but they imply improvements in the performance and system stability, made possible by the solution of several bugs and failures reported by users. This is, in fact, the latest beta before the official update scheduled to be released next month. According to experts, just for the Christmas week.
Available as a manual update (build number NPF26F and NPF26H, downloadable from the Android Developers website), most improvements to the list mainly refer to the developers and tools made available to them as the new version SDK 25 of the API, while Android Studio is updated to version 2.2.2 and can now, for example, adapt and test circular icons, typical of the new Nougat. The update is already being distributed and users with a compatible device can download it instantly, wirelessly, by participating in the Android beta program. To do this, simply access this link with your Google credentials, scroll through the page and click to register your device (remember that it must be a Nexus of those mentioned in the previous paragraph or Pixel C).
As part of the Android beta program, in a few minutes you will receive a notification that the update is available. For this reason it is advisable to access the Settings menu and force the search for updates. Otherwise, you can proceed to install the factory image with the respective device drivers installed on the PC and with the bootloader fully unlocked. The deployment via OTA has already begun, but Google has not made it available for public download. This means that any other user will not be able to try out new additions to the Android Nougat beta.
If you are interested in purchasing a Nexus smartphone (with which to take advantage of Android and Google), the LG Nexus 5X is available on Amazon for only $ 277.50, while the Huawei Nexus 6P is available for $ 479,99.
Android 7.1.1 Nougat Developer Preview 2 available for Nexus