New details about the expected Alcatel Idol 4S with Windows 10 Mobile. On the website of T-Mobile (important US telephone operator) have published for a few hours a page with information about the new Alcatel Idol 4S, an oversight that gives us further confirmation of the existence of this smartphone (about which we knew some details and the similarity that keeps with the BlackBerry DTEK60). And as we know by this revelation, Microsoft has decided to offer all users the opportunity to immerse themselves in virtual worlds, using Windows 10 Update Creators and virtual reality goggles for a cheaper price than those offered by HTC and Oculus. T-Mobile removed that page showing the Alcatel Idol 4S with Windows 10 VR, along with a virtual reality viewer.
Entitled "Alcatel Idol 4S with Windows 10 VR", it is unclear whether the VR suffix is included in the price of virtual reality glasses, or is the mobile version of Windows 10 Creators Update. The design is similar to the Android version announced in February with some aesthetic modifications, such as gold metal edges. The 5.5-inch screen has a lower resolution (from 2560 x 1440 to 1920 x 1080 pixels), but the hardware is better than expected: a Snapdragon 820 processor to 2.15 GHz, 4 GB of RAM and 64 GB of internal memory, expandable with microSD cards. The resolution of the rear camera has been increased from 16 to 21 megapixels, while the front camera is exactly the same (8 megapixels).
This hardware upgrade is undoubtedly due to the support for Windows Continuum functionality that requires a more powerful processor. Connectivity consists of modules Wi-Fi, Bluetooth, GPS and LTE. It also includes a USB Type-C port and a fingerprint reader that can unlock the cell phone through Windows Hello. A battery of 3000 mAh (although it could be different) provides up to 13 hours of talk time and 17.5 days in standby time. The body of the device measures 153.6 x 75.2 x 6.86 mm with a weight of 152 grams and includes stereo speakers.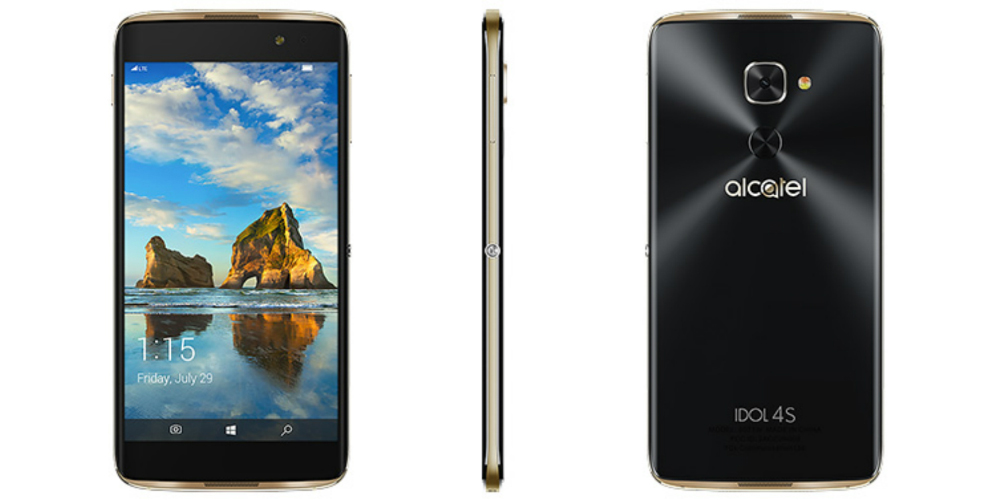 Alcatel Idol 4S with Windows 10 VR unveiled by error in T-Mobile