Alcatel announced in the last hours the availability in Europe of smartphones Pop 4 and Idol 4. In particular, it is interesting because of the Pop 4 series, which is divided into three types: Pop 4, Pop 4 Plus and Pop 4S, which account for change (or update) the previous Pop series. Alcatel has developed these devices throughout this millennium and is considered one of the great references to the current young target audience, looking for a cheap smartphone with good characteristics.
All these smartphones are equipped with 4G LTE connectivity (cat.6 in Pop 4S) and offer the possibility of managing a dual SIM card. All these products do not drop below € 129.90, but instead offer the ability to have a more complete platform and hardware more efficiently than normal.
Screen, for example, has a complete lamination improving color reproduction and whose thickness is slightly less than 8 mm, while the front camera is equipped with front flash. The Pop 4 and Pop 4 Plus has a rear 8-megapixel camera and a front 5 megapixel camera with optical wide-angle and said frontal flash, while the Pop 4S integrates a rear and a front camera of 13 megapixel with Auto Focus (PDAF).
Both Pop 4 and Pop 4 Plus integrate quad-core processor, but as the Pop 4S is the most complete model of the group, has an eight-core processor. And in the case of Alcatel, it is obvious that also in the section of audio are benefits, thanks to the JBL headphones, as well as quick charge function of the battery, which allows charging of 50% of the battery in just 30 minutes. Pop 4S hardware is also enriched by the presence of a fingerprint sensor for secure access to personal data of smartphone.
The prices of the three models are: Alcatel Pop 4, € 129.90; Alcatel Pop 4 Plus for € 149.90; Alcatel Pop 4S, 229.00 €. All three smartphones are available in two different materials: wooden frame and satin metal, while the Pop 4S adds more colors, gold and dark gray. As for Alcatel Idol 4 is noteworthy that also includes a top version called Idol 4S, which amounts to 500 € (for a device that has a 5.5-inch QHD screen resolution).
Making a brief summary of the characteristics of the latter device, the Alcatel Idol 4S features a Snapdragon 652 eight-core processor at 1.8 GHz, 4 Cortex A72 + 4 Cortex A53, Adreno 510 GPU, 3 GB of RAM and storage integrated with 32 GB expandable via micro SD. The specifications are as you would expect of a high-end Android phone, as underlined by the price, we are in the center of the territory of the top of the high range.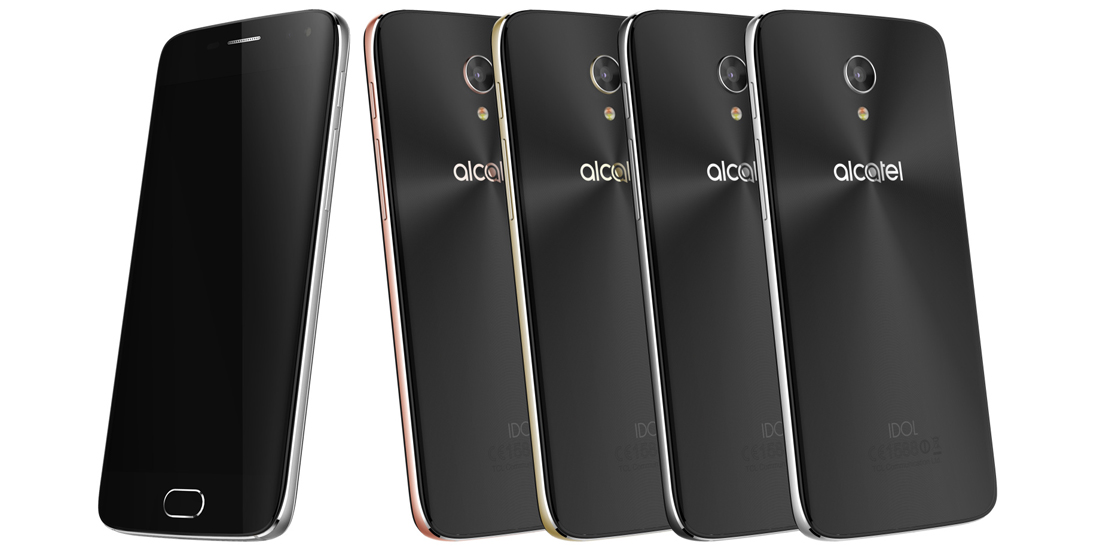 Alcatel Idol 4 arrives in Europe with its brothers